From Chapter 4 of the IMF's World Economic Outlook, released today: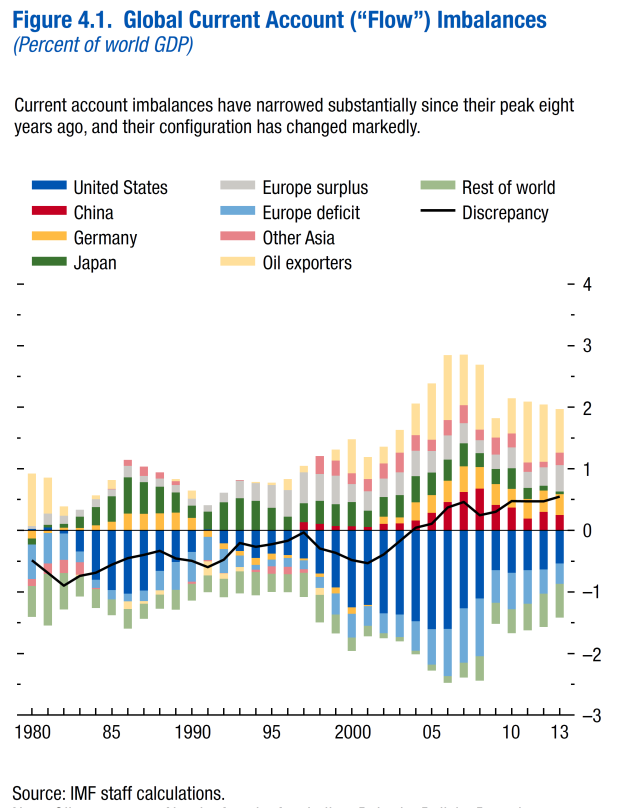 Global current account ("flow") imbalances have narrowed significantly since their peak in 2006, and their configuration has changed markedly in the process. The imbalances that used to be the main concern—the large deficit in the United States and surpluses in China and Japan—have more than halved. But some surpluses, especially those in some European economies and oil exporters, remain large, and those in some advanced commodity exporters and major emerging market economies have since moved to deficit.

This chapter argues that the reduction of large flow imbalances has diminished systemic risks to the global economy. Nevertheless, two concerns remain. First, the nature of the flow adjustment—mostly driven by demand compression in deficit economies or growth differentials related to the faster recovery of emerging market economies and commodity exporters after the Great Recession—has meant that in many economies, narrower external imbalances have come at the cost of increased internal imbalances (high unemployment and large output gaps). The contraction in these external imbalances is expected to last as the decrease in output due to lowered demand has likely been matched by a decrease in potential output. However, there is some uncertainty about the latter, and there is the risk that flow imbalances will widen again. Second, since flow imbalances have shrunk but not reversed, net creditor and debtor positions ("stock imbalances") have widened further. In addition, weak growth has contributed to increases in the ratio of net external liabilities to GDP in some debtor economies. These two factors make some of these economies more vulnerable to changes in market sentiment. To mitigate these risks, debtor economies will ultimately need to improve their current account balances
and strengthen growth performance. Stronger external demand and more expenditure switching (from foreign to domestic goods and services) would help on both accounts. Policy measures to achieve both stronger and more balanced growth in the major economies, including in surplus economies with available policy space, would also be beneficial.
The chapter was coauthored by Aqib Aslam, Samya Beidas-Strom, Marco Terrones (team leader), and Juan Yépez Albornoz, with support from Gavin Asdorian, Mitko Grigorov, and Hong Yang, and with contributions from Vladimir Klyuev and Joong Shik Kang.
For as assessment of global imbalances — causes and prospects — by me and Barry Eichengreen and Hiro Ito, see this post.