As I watch the financial meltdown in Russia (and work on a chapter on financial crises), I am pervaded by a sense of déjà vu.
As Paul Krugman notes, the unfolding of the crisis is not mysterious, although the timing — and ferocity — is somewhat unexpected. Figure 1 depicts the collapse in the ruble even as the policy rate is hiked up, an astounding 6.5% yesterday.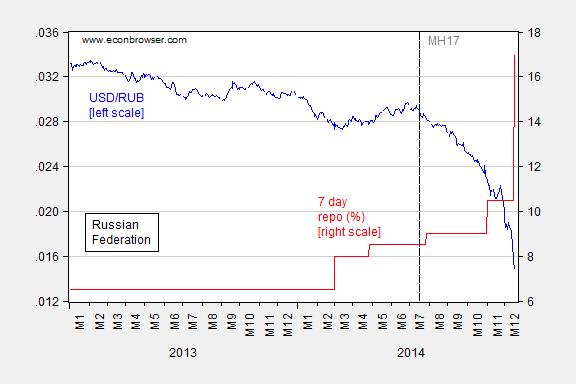 Figure 1: USD/RUB exchange rate (blue, left scale), seven day repo rate, % (red, right scale). Vertical dashed line at 17 July 2014. A rise in the exchange rate is a rouble appreciation. Source: Pacific exchange service, Central Bank of the Russian Federation.
Foreign exchange reserves are being depleted at a rapid pace, even as intervention ceases.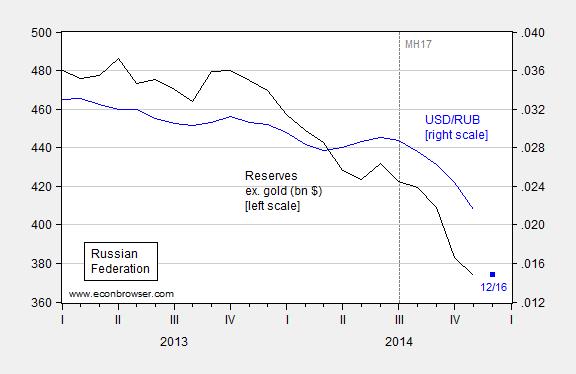 Figure 2: Russian Federation foreign exchange reserves ex.-gold, in billions USD (black, left scale), and USD/RUB exchange rate, monthly average of daily rates (blue, right scale); December observation is for 12/16. Vertical dashed line at shootdown of MH17. Source: IMF, International Financial Statistics, and Central Bank of Russia (for September reserves), Pacific Exchange Services, and author's calculations.
Earlier in the year, I thought targeted financial sanctions could very well have an impact.[1] [2] [3] Numerous commentators dismissed the predictions of Russian external vulnerability. What those commentators failed to foresee (as I did) was the rapid collapse in oil prices.
In addition, observers did not take into sufficient account the fact that much of Russian forex reserves are to varying degrees illiquid, as discussed in a recent Economist article: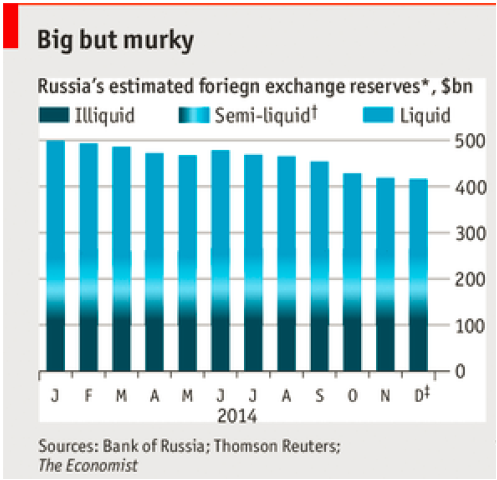 Source: Free Exchange (Dec. 12, 2014).
In other words, reserves useful for defending the currency against speculative attacks are more like $200 billion than $400 billion. That has made the evolution of recent events much more akin to a classic Krugman first generation balance of payments crisis. It also has elements of third generation crises to the extent that balance sheet considerations complicate matters for Russian policymakers.
I would add there is an element of second generation currency crises to the extent that the increase of the policy rate to 17% is simply not credible (as Krugman alludes to). Raising the rate and maintaining it at this new level will result in a recession, and it is not clear to me that in the end Russian policymakers will endure a recession merely to defend the ruble. From Bloomberg:
The higher interest rate will crush lending to households and businesses and deepen Russia's looming recession, according to Neil Shearing, chief emerging-markets economist at London-based Capital Economics Ltd.
For a discussion of various generations of crisis models, see this paper.