Paul Ryan in October 2009 writes:
"One of my key concerns is on the inflation front…."
"…We are already seeing some potentially dangerous developments in financial markets. Over the past six months alone, the dollar has declined nearly 15 percent against major currencies (Figure 4) . Due to extremely low interest rates in the U.S., some investors are using the dollar as a funding currency for a carry trade (borrowing and then selling dollars to buy higher-yielding foreign assets), which is further contributing to downward pressure. A falling dollar pushes up the cost of imported goods and commodities. Gold is at an all-time high above $1,000 per troy ounce (Figure 5) , silver and copper prices are on the rise, and oil prices have doubled over the past 8 months. These commodity price increases could be an early harbinger of future inflation."
That's from an op-ed in October 2009. Here are up to date statistics on inflation from today.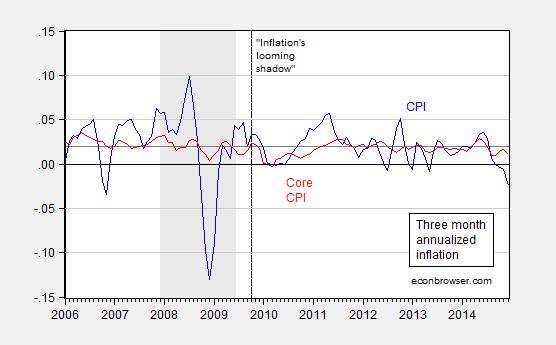 Figure 1: Three month annualized inflation using CPI-all (blue), Core CPI (red). NBER defined recession dates shaded gray. Source: BLS, NBER, author's calculations.