Commenting on what has been termed "Francogeddon" and a "tsunami" as well as consequent mayhem, Joe Weisenthal at Bloomberg/Business Week writes:
"Today the Swiss National Bank shocked the world when it announced it would remove the cap it had in place to prevent the Swiss franc from rising too high against the euro."
The SNB's statement is here; see additional discussion here. The jump in the CHF's value is shown below: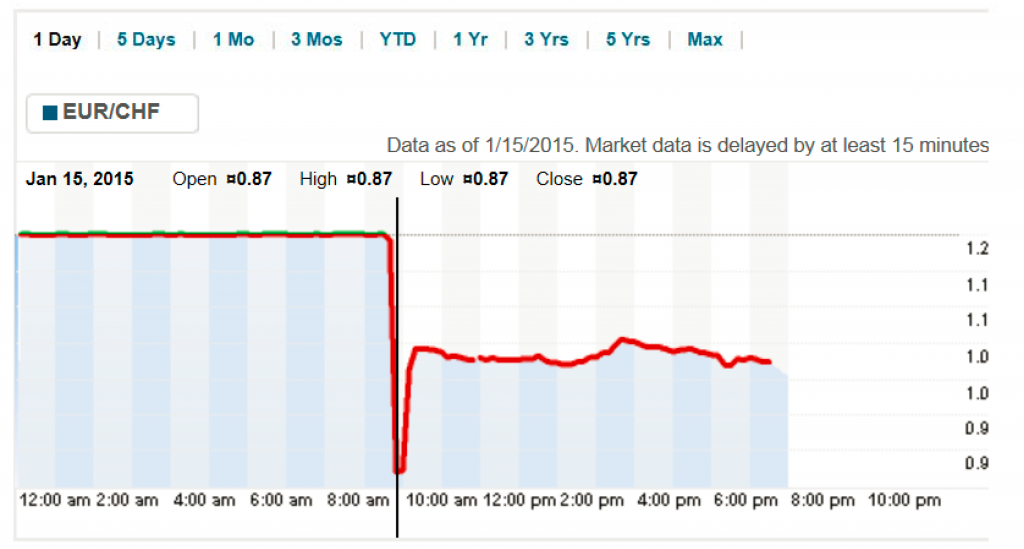 Source: Bloomberg 15 January 2015. Down is an appreciation of the CHF against the EUR.
The expansion in the SNB's balance sheet as a consequence of foreign exchange intervention is shown in Figure 1. Also shown is the stabilization of the real trade weighted CHF as a consequence of the foreign exchange (euro) intervention.
Figure 1: Log real trade weighted value of the Swiss Franc, 2010=0 (blue, left scale, up is a real appreciation of the CHF), and asset side of the SNB balance sheet (red, right scale), and foreign exchange reserves (green, right scale), in billions of CHF. Source: BIS and SNB.
Weisenthal reports speculation that the SNB will focus more on the trade weighted SNB, and perhaps shift intervention to the USD/CHF pair, especially as the path for the ECB's quantitative/credit easing program is cleared.[1]
Update, 5:50PM Pacific: The appreciation today restores the USD/CHF bilateral exchange rate to that obtaining on 7/14/2014.
Figure 2: Log USD/CHF exchange rate. Source: FRED and Pacific Exchange Rate Services.
The CHF is about 4% stronger against the USD than it was on 9/7/2011 (the day after the imposition of the cap), while the US CPI has risen about 5% relative to the Swiss CPI since 2011M09. Hence, the real US-Swiss bilateral rate is about the same as it was when the cap was imposed.
Buckle up, it's going to be a bumpy ride:
Bloomberg on volatility; expect Europe EM balance sheet problems associated with external CHF liabilities.
Update, 1/16 9:15AM Pacific: A review of market commentary from Hilsenrath/WSJ RTE. Krugman discusses credibility issues here; Krugman reviewing events here.