This paper, coauthored with Matthieu Bussière (Banque de France), Gong Cheng (European Stability Mechanism), and Noëmie Lisack (EUI), is now published and online.
Based on a dataset of 112 emerging economies and developing countries, this paper addresses the question whether the accumulation of international reserves has effectively protected countries during the 2008–09 financial crisis. More specifically, the paper investigates the relation between international reserves and the existence of capital controls. We find that the level of reserves matters: countries with high reserves relative to short-term debt suffered less from the crisis, particularly when associated with a less open capital account. This suggests some degree of complementarity between reserve accumulation and capital controls.
Some discussion of developments post crisis here. Figure 1 below illustrates the recent deceleration in reserve accumulation.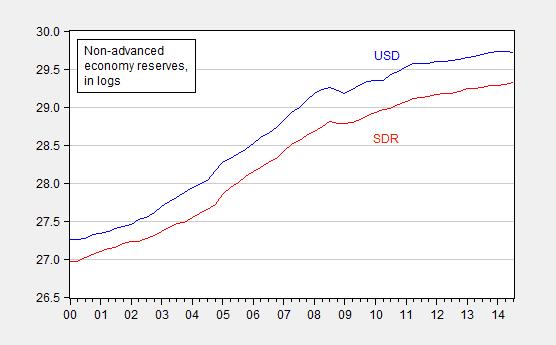 Figure 1: Log non-advanced international reserves ex-gold, in billions $ (blue), SDR (red). Source: IMF COFER.