Wisconsin employment has now fallen below pre-recession peaks…
[Updated, with comments from WMC and Lt. Gov. Kleefisch; warning – your head will hurt after reading]
Figures released this afternoon indicate the three month change in nonfarm payroll employment and civilian employment have been negative for two and three months respectively. Since the Wisconsin Department of Workforce Development (DWD) memo makes no mention of this, I think it useful to document the negative trends in Wisconsin employment.
Figure 1 depicts nonfarm payroll employment and civilian employment.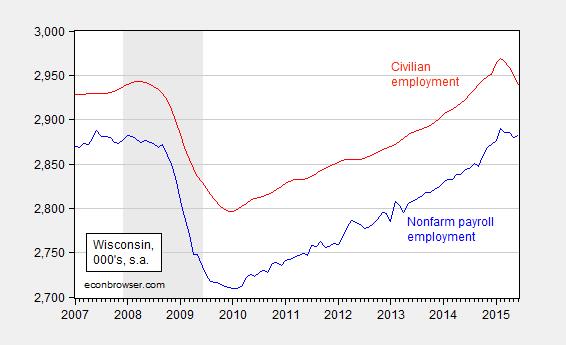 Figure 1: Wisconsin nonfarm payroll employment (blue), and civilian employment (red), both in 000's, seasonally adjusted. Source: BLS and DWD.
Since the two estimates come from two different surveys (establishment and household, respectively), this adds to the impression of continuing job loss. The most recent concurrence of both series experiencing negative 3 month changes is the last recession. Before that, there was a short period in 2003.
Figure 2 zooms in to recent vintages of the private employment series. While the total NFP series rose slightly, private employment registered a continued decline, even though April figures were revised upward.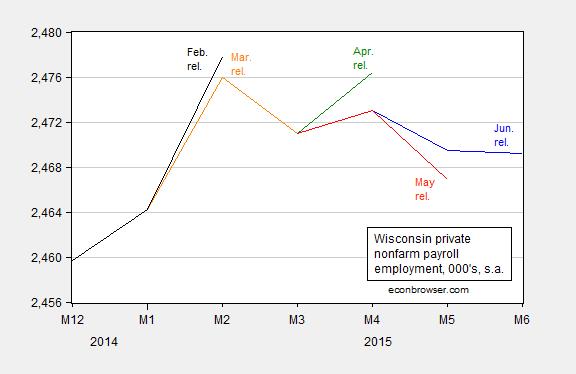 Figure 2: Wisconsin private nonfarm payroll employment from February (black), March (orange), April (green), May (red) and June (blue), all in 000's, seasonally adjusted. Source: BLS and DWD.
Finally, Figure 3 presents a comparison of US and Wisconsin NFP series (as far as I know, Minnesota's figures are not yet available).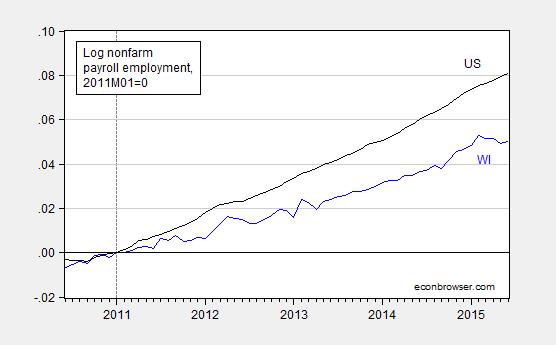 Figure 3: Nonfarm payroll employment (blue), and US (black), seasonally adjusted, in logs normalized 2011M01=0. This means a reading of 0.05 is 5% above the level in January 2011. Source: BLS and DWD.
The Philadelphia Fed coincident indices, which for Wisconsin have been revised downward in recent months, will be released on July 24th. These indices are calculated using in part these employment data.
Update, 7/17 7:30pm Pacific: If you want to read some completely data free "analysis", see this piece entitled Wisconsin's Economic Future Much Brighter than Minnesota by the head of the Wisconsin Manufacturers and Commerce:
Even so, many indicators are bullish on Wisconsin's future economic prospects. For example, business optimism is sky high and many leading rankings on both business climate and economic outlook have shown dramatic improvement for Wisconsin since 2011 when Walker took office. Minnesota hasn't done nearly as well in many of those same rankings.
None of the rankings are listed. I presume one of them is the ALEC ranking. As we now know, the ALEC rankings are not predictive.
Update, 7/19 9pm Pacific: If you can translate this statement from Scott Walker will try to explain Wisconsin's job picture to GOP voters, Rebecca Kleefisch says, you're smarter than I am:
Wisconsin added 129,154 private-sector jobs between December 2010 and December 2014 in data from the Bureau of Labor Statistics' Quarterly Census of Employment and Wages. That's a change of 5.69 percent.

But Kleefisch said she takes issue with that reporting.

"It's based on the speed with which jobs are created in comparison to neighbors as opposed to the actual number of jobs created," she said. "So I think you're going to see the governor trying to explain that."

…

Kleefisch explained her reasoning with an example.

"If you measure two kids in a class, and if you have Wisconsin and Michigan sitting in a class, taking this class on economic development, and in the very beginning of the school year, they both score a D, things aren't looking good for the economic prospects of either one of these students in this class," she said. "But by the end of the semester, things are changed.

"Well, now imagine if you have those two students in the class, Michigan and Wisconsin. And Michigan's getting a D, which it clearly was. I would put, honestly, Michigan, with the failure of the autos, at about an F. Wisconsin was getting a C. But at the end of the semester, if they're both at a B, who did better?"
Of course, this does not explain why Minnesota, which experienced a 5.6% peak to trough decline in nonfarm payroll (NFP) employment, has faster employment growth than Wisconsin, which experienced a 6.0% decline (log terms). Since 2011M01, Minnesota's NFP has grown 6.9% vs. Wisconsin's 4.8% (log terms).
Update, 7/20 4:45pm Pacific: The Wisconsin DWD press release doesn't mention job losses, but does tout the high participation rate. My observation: It's easy to have a high participation to population rate when on the population is barely growing. Wisconsin's population growth rate in 2014 was 0.25%, a value last observed in 1986. By the way, the downward trend in growth is not shared by Minnesota.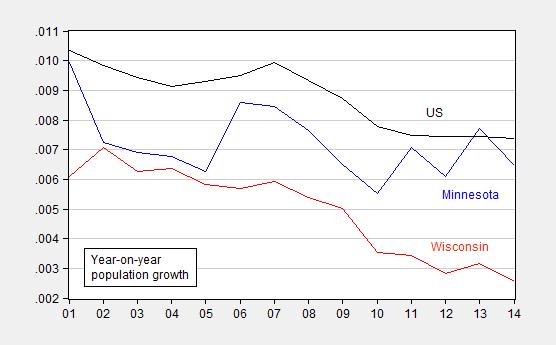 Figure 4: Year-on-year population growth in Minnesota (blue), Wisconsin (red) and US (black). Source: FRED and author's calculations.
Oh, and Wisconsin's participation rate has been decreasing. The fact that it is higher than the US average is neither here nor there, given that it typically has been higher for as long as state level data has been reported, as noted here.