Over the last three months, there has been a substantial downshift in the level of economic activity and six-month forecasted growth, according to the Philadelphia Fed.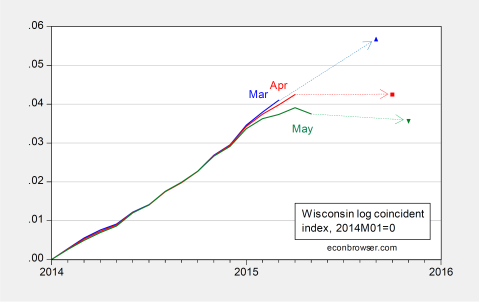 Figure 1: Log coincident index for Wisconsin, from March release (blue), April (red), and May (green), and associated implied forecasted levels. All normalized to 2014M01=0. Source: Philadelphia Fed coincident, leading, and author's calculations.

For those who are dubious about the indices' relevance, note that Philadelphia Fed states that the correlation of the Philadelphia Fed's coincident index and real Gross State Product exceeds 0.85 for Wisconsin.
Update, 6/27 7PM Pacific: Ironman suggests that an explanation for the downturn in Wisconsin "… is to consider the timing of major changes in the price of oil and fuel."
I don't know what to make of this. A decrease in energy prices lowers costs of production, so should be a boon. Perhaps Ironman believes that the drop in oil prices, and the associated decrease in drilling activity has had a negative impact on Wisconsin mining activity and manufacturing output (production of equipment, steel fabrication, etc.). In a previous post I decomposed the drop in employment, where these categories had negligible explanatary power for the numerical decrease. But no matter, here is a focused version of that graph.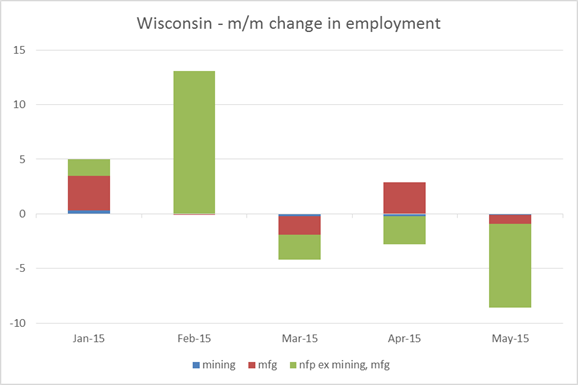 Figure 2: Month-on-month change in employment by mining and logging (blue), by manufacturing (red), and rest-of-nonfarm payroll employment (green), in 000's. Source: BLS and author's calculations.
Notice that mining and logging has almost not role in the downturn in employment; the same is true of manufacturing. The latter also suggests that the dollar's strength is not a big source of the decline. It is interesting to me that some people will cast about for any, any, any other cause, except perhaps contractionary fiscal policy and/or policy uncertainty. The latter omission is particularly interesting given the fact that many were willing to point to policy uncertainty as a source of the slowdown in US economic growth in 2011-2012 (see this post).
Oh, and since 2010 (when lots of tight oil production came on line), the correlation between the three month growth rate of the coincident index for Wisconsin and the three month growth rate of the relative price of oil is … negative.