Wisconsin is not outpacing its neighbors according to the Philadelphia Fed's coincident indices meant to proxy economic activity; and, contrary to assertions [1], the lagging pace of Wisconsin is not apparently attributable to a milder downturn in Wisconsin.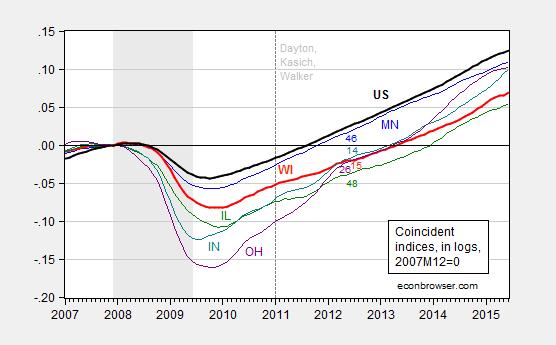 Figure 1: Coincident indices for Minnesota (blue), Wisconsin (red bold), Illinois (green), Indian (teal), Ohio (purple), and US (black bold), all in logs normalized to 2007M12=0. Numbers indicate 2013 ALEC rankings. A reading of 0.068 in June 2015 means that economic activity is 6.8% higher than it was at 2007M12. NBER defined recession dates shaded gray. Dashed line at Dayton, Kasich, and Walker administrations. Source: Philadelphia Fed, NBER, ALEC, and author's calculations.
Because the graph is shown in logs, one can do calculations to determine how activity has evolved over time. For instance, a reading for Wisconsin of 0.068 in June 2015, and a reading of -0.05 in January 2011, means that Wisconsin activity has risen by 11.8% since Governor Walker took office. In contrast, Minnesota has risen by 13.8% over the same period. Interestingly, the much maligned (by conservatives) state of Illinois has risen 12.8% over the same period. In other words, Illinois outpaces Wisconsin.
In addition, note that Wisconsin fell further than Minnesota during and after the recession, and yet Minnesota has grown faster than Wisconsin. Hence, a milder downturn does not prima facie explain Wisconsin's lackluster growth.
The numbers indicate the 2013 ALEC-Laffer rankings (which pertain to 2012 values). As discussed in this post, the ALEC-Laffer rankings have little informational content, and if anything, poorer ranked states have better outcomes.
Notice that Michigan is omitted from the graph. Adding in Michigan does not put Wisconsin in a better light. Relative to 2007M12, Michigan is higher than Wisconsin, despite the further drop.
For a further discussion of the other dimensions in which Wisconsin lags, see this post, as well as this post. In my assessment, Wisconsin is not outpacing its neighbors. I would also add that, according to median household income statistics, Wisconsin is not prospering (unless your household income exceeds $100,000/year, in which case the proportion has risen — just like the proportion below $25,000 has risen). That is, there are more rich, and more poor…