No surprise, Minnesota beats Wisconsin, again.
Some individuals have touted trends in Wisconsin's median household income relative to Minnesota and the Nation. The Census Bureau warns researchers from doing intertemporal comparisons using the standard series (e.g., on FRED), given data breaks due to different methods of interpolation. Here I plot the American Community Survey (ACS) series for Minnesota, Wisconsin and US, which are not subject to the same problem of comparability, and are estimated with greater precision due to larger sample sizes.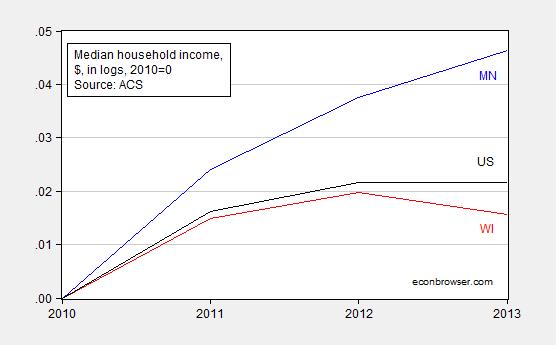 Figure 1: Median household income for Minnesota (blue), Wisconsin (red), and US (black). A reading of 0.045 means that the value is 4.5% higher than it was in 2010. Source: American Community Survey/Census Bureau, and author's calculations.
Use of this series reverses the impression from the standard series that the gap between Wisconsin and Minnesota closed going from 2012 to 2013 (see Figure 6 in this post). In fact, the gap has been widening since 2010.
Once again, it is useful to read the footnotes.