From Hatzius et al., in Goldman Sachs Global Macro Research yesterday:
A federal shutdown due to a funding lapse looks no less likely than it did two weeks ago, and we believe the probability is nearly 50%. The Senate is expected to begin voting later this week on a funding extension, but the House looks unlikely to act until shortly before the September 30 deadline.
The impact on measured policy uncertainty is shown in Figure 1 below.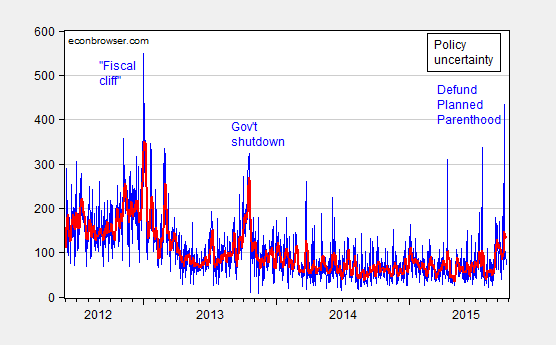 UPDATED Figure 1: Daily policy uncertainty index (blue), and 7 day trailing moving average (bold red). Source: Baker, Bloom and Davis, at policyuncertainty.com, accessed 9/22/2015 9/23/2015.
The reason we are fast approaching the brink? From Politico:
McConnell set up a Thursday vote that would fund the government through Dec. 11 while gutting federal funding for Planned Parenthood and boosting defense spending by $13 billion — an approach favored by conservatives on the right.

That legislation will fail due to Democratic opposition, allowing McConnell to argue that Senate Republicans tried the hard-line tactic proposed by Sen. Ted Cruz (R-Texas), but it couldn't pass. McConnell could then turn to a "clean" funding bill that Democrats have promised to support.
"There's going to be votes to defund Planned Parenthood. But I think, given the president's opposition and Democrats' opposition, at some point, I anticipate there will be a clean (continuing resolution)," Senate Majority Whip John Cornyn (R-Texas) told reporters. "But, that's not the end of the fight over late-term abortions and over Planned Parenthood."

But first, McConnell agreed to test Cruz's approach, touting the benefits of a bill that is at bipartisan spending levels and "would defund Planned Parenthood and protect women's health by funding community health clinics." And consistent with the GOP leader's tight-lipped nature, McConnell refused to confirm that he will then turn to a clean CR when the attack on Planned Parenthood fails later this week.

…

By moving first, the Senate has more time to clear through the procedural hoops in the chamber — allotting just a handful of days before a shutdown to throw the funding hot potato into the House's lap. The move would put the onus on the lower chamber to prevent a federal shutdown. It also would make it harder for opponents like Cruz to throw sand in the gears at the last moment.

But there's no guarantee that the House will accept what the Senate sends over. And there's no guarantee Cruz won't fight McConnell tooth and nail, as he has done all year, though, at this point, he'd have to mount a herculean effort to disrupt McConnell's government funding train.
Oh, and there's the debt ceiling issue as well.