People with concealed weapon licenses would be allowed to carry guns inside the buildings and classrooms of Wisconsin's public universities and colleges under a bill introduced Monday by two state legislators.
According to the Wisconsin State Journal article, the bills sponsors argue that if only students were armed to the teeth, any gunmen would be quickly taken down.
This is a common view, which to my knowledge has no statistical basis. All we have are anecdotes. See for instance Econbrowser reader Rick Stryker's argument. In the wake of the Newtown massacre, and in response to a reader's plea after the Newtown massacre in 2012:
"I want my kid to grow up in a world where owning a shiny piece of metal that can instantaneously end human life with little effort is not normal, or something to be proud of, in the modern world."
Mr. Stryker provided a further suggestion:
I would agree and so Holiday season I'd like to suggest something that you can put under the Christmas tree: a junior membership in the NRA. It's only $15 and includes a subscription to Insight magazine. The junior memberships are great ways to teach kids about the proper, legal use of firearms and the importance of gun safety.
Sure. To quote "Yeah, that's the ticket!"
I'll appeal instead to data. Here is an interesting correlation, involving actual data. First consider the number of casualties in mass shootings.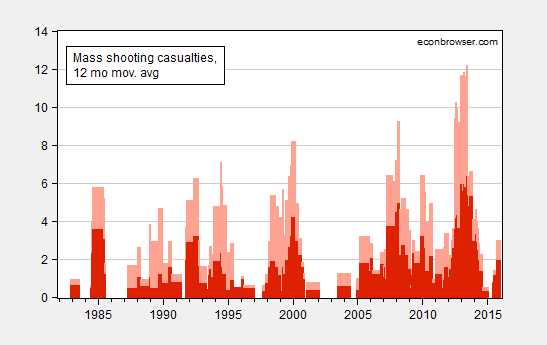 Figure 1: 12 month moving average of mass shooting casualties; deaths (dark red), wounded (pink). Source: Mother Jones, and author's calculations.
There seems to be a trend…I estimate a tobit model on quarterly data 1982Q1-2012Q4 (since casualties are bounded below at zero):
casualties = -0.376 – 0.989yt-8 + 0.0008timet
Where casualties per million population, y is the output gap expressed as a ratio, and time is a time trend; bold figures denote statistical significance at the 10% level using Huber-White standard errors. The idea is that lagged economic distress induces more attacks. All coefficients are statistically significant, and the standard error of regression is 0.054,
Note the time trend is statistically significant. What is the time trend capturing? I substitute a meaningful variable for the time trend, namely the stock of guns in the US.
casualties = -0.211 – 0.900yt-8 + 0.0006gt
The stock of guns, g, is interpolated from annual data). The standard error of regresion is again 0.054.
This is merely a reflection of a stylized fact about gun violence. For verification of this proposition, see this article (which also contains other data-based observations).
The observation that stricter gun control laws are associated with lower gun violence is suggestive of a constructive — and realistic — path for policy going forward: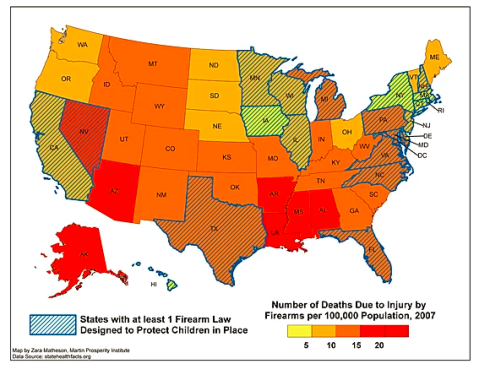 Source: Wonkblog.
and not adolescent fantasies about armed citizens policing our campuses. (I must say that if one is worried about "grade inflation", having hundreds of armed students in classrooms is unlikely to help…)