Updated 11/6: With Governor Walker's comments.
Recall, that was the title of Governor Walker's op-ed about two weeks ago. Yesterday, long time residents of Madison were made aware that Oscar Mayer will be moving out:
Oscar Mayer, which has been part of Madison's northeast side for nearly 100 years, is closing its Madison headquarters and manufacturing plant, the company said Wednesday.

…

The Madison Oscar Mayer facility employs 1,000 people, according to Madison Mayor Paul Soglin. Kraft Heinz Company spokesman Michael Mullen said 700 of those workers are in the factory.
Depicted in Figure 1 are the mass layoff notification statistics as of end-October for 2014 and 2015; these do not include the Oscar Mayer statistics.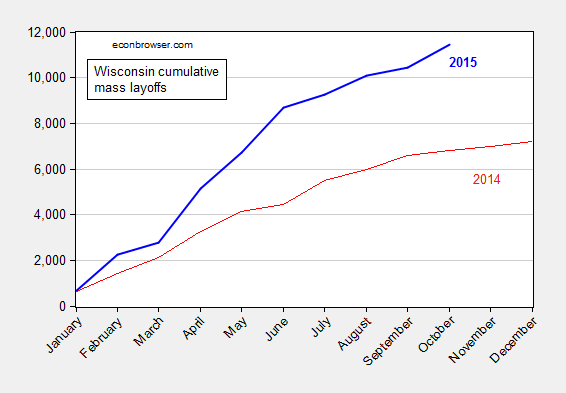 Figure 1: Wisconsin cumulative mass layoff notifications by end-month, for 2015 (bold blue) and 2014 (red). Source: DWD and author's calculations.
Additional information on the gradient the Wisconsin economy is on presented in this post (includes a longer time series on mass layoffs, normalized by employment). For an econometric analysis of where Wisconsin economic activity should be based upon pre-Walker historical correlations, see this post (warning: you have to believe in counterfactuals to understand).
Update 11/6: From Stein and Marley, Milwaukee Journal Sentinel:
In the wake of the announced closure of the Oscar Mayer plant on Madison's east side, Wisconsin Gov. Scott Walker said Thursday he is reaching out to corporate parent Kraft Heinz Co. but declined to spell out what his administration has done since the meat processor shed jobs here in August.

Madison Mayor Paul Soglin said he'd seen no indication the state had done anything since then to keep the plant in Wisconsin — something he found mystifying.

The GOP governor said the closing was a corporate decision that had "nothing to do with Wisconsin" and that Democratic politicians such as Soglin and Dane County Executive Joe Parisi also were caught flat-footed by the announcement.

Soglin said Madison officials met with the company after the first wave of job cuts and made clear the city would do what it could to help. The state had not done anything he was aware of, Soglin said.

"Why would they ignore a job center focused on their goals that is less than two miles from the governor's mansion? I can't answer that question," Soglin said.

…