That's the title of a op-ed written by Governor Walker. I'll let others assess some of his assertions, but I do wonder about the veracity of the depiction of a buoyant Wisconsin economy.
First, consider employment. Month-on-month nonfarm payroll growth is flat, while private employment declined in preliminary estimates for September.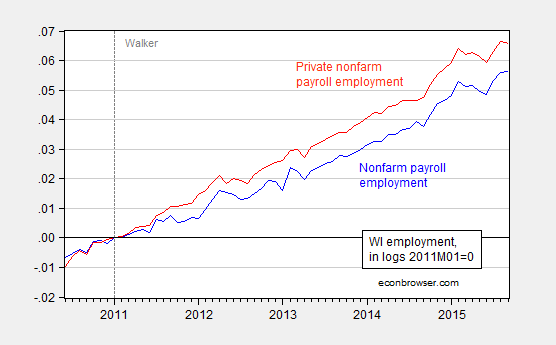 Figure 1: Wisconsin nonfarm payroll employment (blue) and private nonfarm payroll employment (red), s.a., in logs normalized 2011M01=0. Source: BLS and author's calculations.
As noted elsewhere, Wisconsin employment growth lags that of the US (and neighbor Minnesota).
The Governor cites unemployment rates; he omits the fact that Wisconsin unemployment rates throughout the period for which data are available are typically lower than that in the US overall — about 0.77 percentage points. Figure 2 shows the US minus WI unemployment rate differential, with the 1976M01-2010M12 average in orange.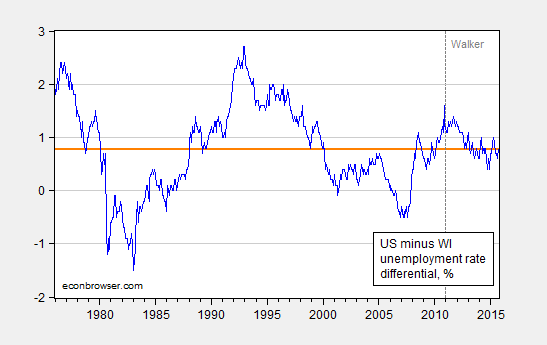 Figure 2: US minus WI unemployment rate, s.a., in % (blue) and 1976M01-2010M12 average (orange bold line). Source: BLS and author's calculations.
Not only is Wisconsin's unemployment performance exactly where one would expect on average, over the Governor's tenure, the US has improved more rapidly than Wisconsin, in terms of unemployment!
Finally, mass layoffs are rising. Figure 3 depicts numbers reported through October 16th of each year, and those numbers normalized by nonfarm payroll employment in September of each year (October figures for 2015 not yet available).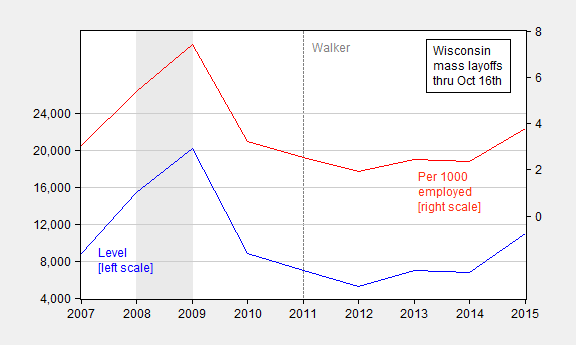 Figure 3: Mass layoffs, reported through October 16th of each year (blue, left scale), and per 1000 nonfarm payroll employed (red, right scale). NBER defined recession dates shaded gray. Source: DWD, BLS, NBER and author's calculations.
I let the reader decide whether Wisconsin is "moving in the right direction".