A couple months ago, we were worrying about a yield curve inversion signalling recession. Now there are anxieties about surging long yields, as — apparently — inflation fears loom. It seems to me a little perspective is necessary.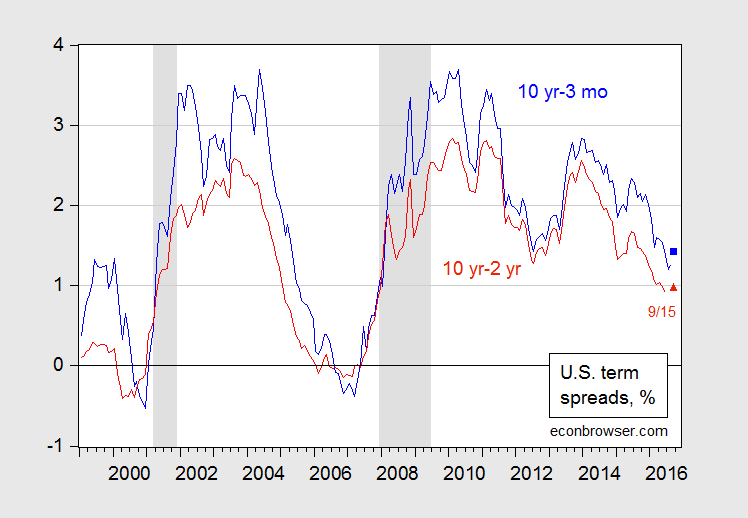 Figure 1: Ten year-3 month Treasury spread (blue), and ten year-2 year Treasury spread (red), in %. September observations for 9/15. NBER defined recession dates shaded gray. Source: Federal Reserve via FRED, finance yahoo, NBER, and author's calculations.
One Bloomberg article notes that it's the events associated with the steepening that are unwelcome, rather than the steepening itself.
"…this isn't the type of steepener Fed officials are hoping for as it's coincided with the U.S. dollar rallying, and stocks sinking."
It's true that since 1986 (beginning of the Great Moderation), increases in the term spread are associated with dollar weakening (measured by Fed real broad dollar index, on a monthly data basis). To me, this is interesting as a real dollar strengthening is inconsistent with higher expected inflation, as posited in the first article.
My observation: Yield curves remain remarkably flat. I'd worry more about a slowdown than an imminent inflationary surge.