If "alternative facts" are here, how far behind can "alternative statistics" be?
From Politico:
Federal agencies are clamping down on public information and social media in the early days of Donald Trump's presidency, limiting employees' ability to issue news releases, tweet, make policy pronouncements or otherwise communicate with the outside world, according to memos and sources from multiple agencies.
The steps to mute federal employees — seen to varying degrees in the Environmental Protection Agency and the departments of the Interior, Transportation, Agriculture and Health and Human Services — are sparking early fears of a broader crackdown across the government, as Trump vows to pursue an agenda sharply at odds with his predecessor.
Donald J. Trump has promised 3.5% to 4%. If the data do not cooperate, will the data be forced to cooperate?
And here is the order to cease communication for the EPA: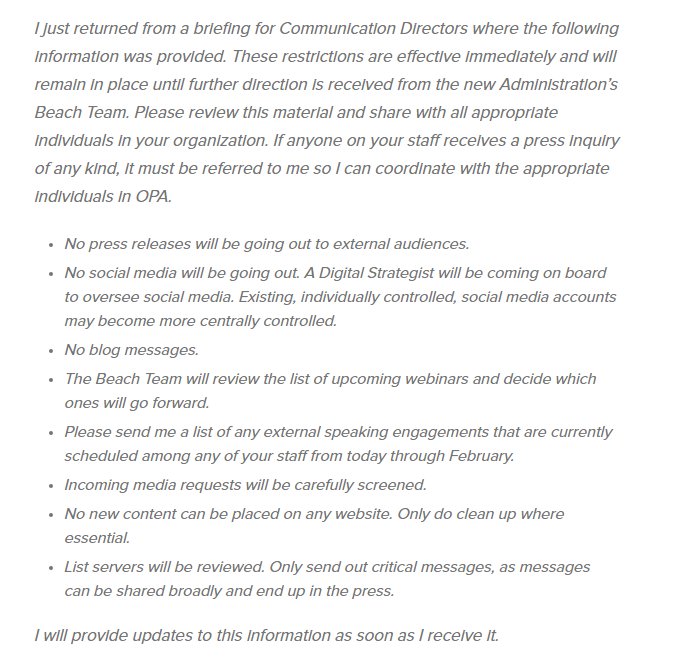 Source: The Hill.
If you think it's not possible, remember Nixon's assault on the BLS.
Update, 10:30PM Pacific: Oops, I see Mark Thoma voiced his concerns already…
Update, 1/28 2:50PM Pacific: Perhaps relevant, Article II, Section 1, Clause 6 of the Constitution:
In Case of the Removal of the President from Office, or of his Death, Resignation, or Inability to discharge the Powers and Duties of the said Office, the Same shall devolve on the Vice President, and the Congress may by Law provide for the Case of Removal, Death, Resignation or Inability, both of the President and Vice President, declaring what Officer shall then act as President, and such Officer shall act accordingly, until the Disability be removed, or a President shall be elected.