That's the title of an article in Bloomberg yesterday.
"I remain concerned, particularly in an environment where you're talking about cutting the budget, that a victim in that exercise could be the production of good data," Glenn Hubbard, who served as chairman of President George W. Bush's Council of Economic Advisers from 2001 to 2003, said Monday in Washington.
I think funding is only part — albeit very important part — of the story. The issue begins with the person at the top of the Executive Branch, and his feelings about "data".
From a transcript in Time, last August:
If you start adding it up, our real unemployment rate is 42%.
Now consider this graph of the official unemployment series, the "Total unemployed, plus all marginally attached workers plus total employed part time for economic reasons" rate of unemployment, aka U-6, and Trump's "estimate" of the true unemployment rate.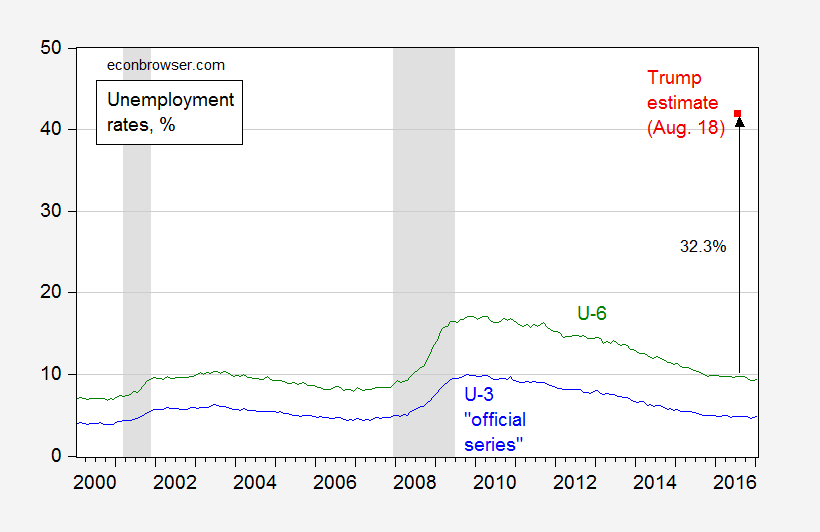 Figure 1: Official civilian unemployment rate (blue), U-6 (green), and Trump's "estimate" quoted August 18, 2016. NBER defined recession dates shaded gray. Source: BLS via FRED accessed 3/7/2017, and Time.
Since the quote is from August, I assume Mr. Trump's estimate pertains to July, 2016. The gap between U-6 and Mr. Trump's estimate is 32.3 percentage points.
If you were hoping that the economic policy making team had a less-detached-from-reality view of the world, you would not gain any succor from hearing Secretary of Treasury Mnuchin's views:
"The unemployment rate is not real," Mnuchin told lawmakers. "I've traveled for the last year. I've seen this. And the president-elect understands that very clearly."
Add to this the proposal to report alternative trade statistics, and anyone who wants the government to collect accurate data can become really worried.