If we count only the import side and not the export side of re-exports, as some in the Administration have suggested, we might as well go "whole hog" and redefine the trade balance completely: Let's count imports, but not exports.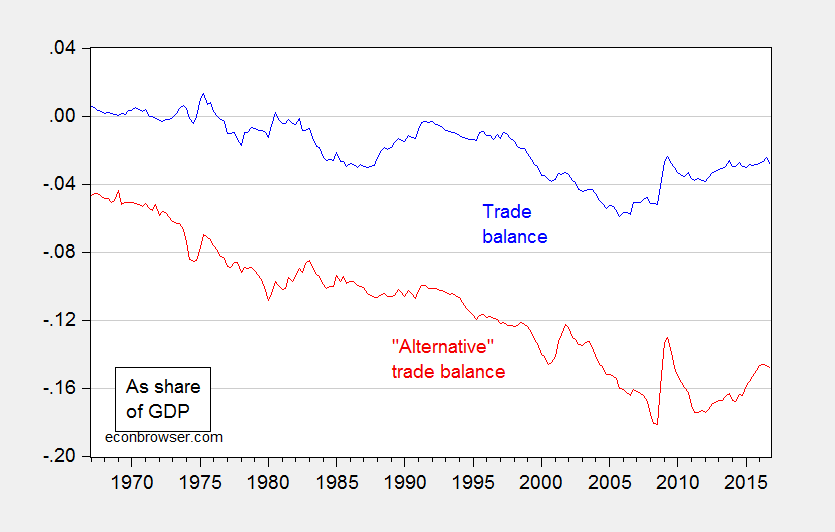 Figure 1: The trade balance defined as net exports/GDP (blue), and the trade balance excluding exports (red). Source: GDP advance release for 2016Q4, and author's calculations.
One must admit that the Trump Administration has been breathtakingly fast in infecting the public discourse with "alternative facts". Nonetheless, I did not expect the Administration to so rapidly try to overturn the economic statistical gathering apparatus. From The Hill:
the leading idea is to count "re-exports" — goods that are imported to the U.S., and then exported to a third country unchanged — as imports, but not exports.
To quote Bill McBride at Calculated Risk: "Crazy".
Imagine what real GDP growth looks like if we incorporate imports, but not exports. It'd be "a mess"! (Update 9pm: if we didn't count those "fake" exports, "alternative" GDP would 1.9 trillion less than reported (Ch.2009$ SAAR)!)
Personal Note: Nearly a year ago, I was offered the opportunity to work on secondment to the USG for at least a year (extending into the new administration). It could have been a rewarding experience, but the potential prospect of having to work for people who would even countenance distorting the data in this way makes me glad that I didn't take the post. Every day, I feel for the career staff that are being told to write "up" is "down", and "left" is "right".