As noted in this earlier post, the distributional consequences of the House Tax Cuts and Jobs Act should include the spending cuts. According to CBO, there will be a $25 billion cut to Medicare unless independent legislation is passed. From TPM:
…automatic cuts spring into action anytime Congress passes a bill that balloons the federal deficit, as the tax bill would. The approximately $136 billion in cuts spurred by the GOP tax bill would hit a number of government programs—including farm subsidies and the Border Patrol—but would cut most deeply into Medicare. Medicaid, Social Security, and food stamps are protected.
[FY 2016 net Medicare outlays were $588 billion]
Even then, PAYGO requirements won't be met given limits on how much can be cut in a given year. From CBO:
Given that the required reduction in spending exceeds the estimated amount of available resources in each year over the next 10 years, in the absence of further legislation, OMB would be unable to implement the full extent of outlay reductions required by the PAYGO law.
So at least limited slash-and-burn on discretionary spending.
In any case, the bottom line: the distributional consequences of the bill which reduces the tax burden on the very high income and raises the tax burden on the low (ten years out) is likely to include additional hits to low income on the spending side.
In other news, JCT has released its analysis of the Senate bill, which is not better in terms of its distributional consequences (unless one wants a more regressive tax code, in which case it's just dandy).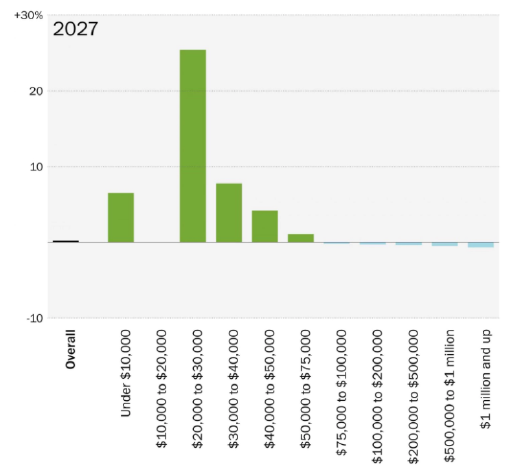 Source: Bump/WaPo.