It looks even worse than shown in this post.
Reader Bruce Hall muses:
It might be interesting to take a longer view of Kansas' economy: https://fred.stlouisfed.org/series/KSNGSP

2005-08 was a period of unusual growth for Kansas' GDP while the 2009-10 recession was unusual decline. So, if you are using 2005-10, it may or may not be a good representation of what might be considered "normal" GDP change. Perhaps a better baseline trend might be prior to 2005. If, for example, PeakTrader's point that wheat rose in price from $3 to $10 per bushel between 2005-09, perhaps the data could be "normalized" by looking at the prices for the prior and subsequent period for a better representation of the economy.
Here is a graph of Kansas real GDP, with 1987-2004 period based on annual data quadratic interpolation (which should not affect the long term trend). The green line is the stochastic trend estimated over the 2005-2010 period shown in this post. The pink line is the stochastic trend estimated over the 1987-2010 period. To my knowledge, official annual state level data does not go back further. (I use stochastic trends because for the longer sample, I cannot reject a unit root using an ADF, but can reject a trend stationary null using KPSS test).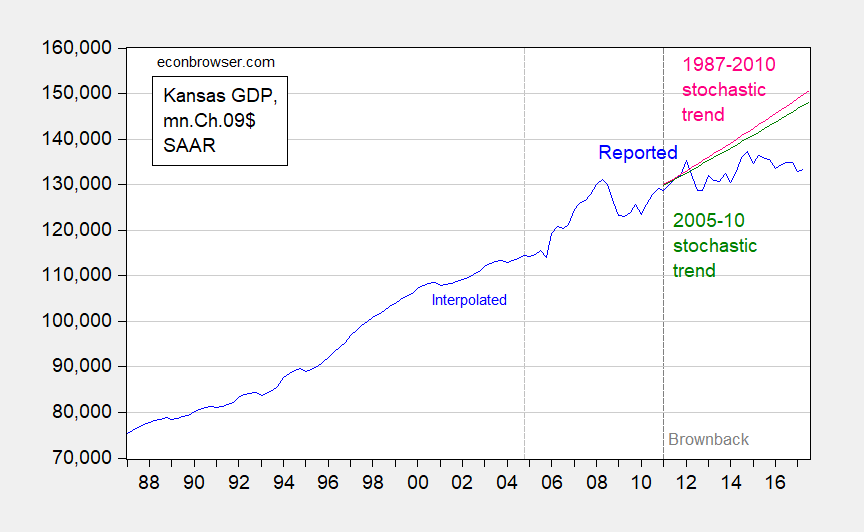 Figure 1: Kansas GDP in million Ch.2009$ SAAR (blue), stochastic trend estimated by regressing log first difference on constant over 2005-2010 period (green), and over 1987-2010 period (pink); all on vertical log scale. Annual 1987-1996 data spliced to 1997-2015 data using overlap in 1997, converted to quarterly using local quadratic fit; quarterly data 2005 onward. Source: BEA and author's calculations.
As the graph indicates, performance under the Brownback regime looks even more dismal compared over this longer trend.
So now Bruce Hall has his answer.
(By the way, if one were interested, one could estimate an error correction model of cointegrated Kansas GDP and US GDP, with one lag of first differences, up to 2010Q4, and then dynamically forecast over the 2011Q1-2017Q3 period using ex post realizations of US GDP. Kansas GDP would then by 5.8% lower than predicted, in log terms.)