That's what Ironman asks at Political Calculations, and he answers his question thusly:
Going by these [household survey based labor market] measures, it would appear that recession has arrived in California, which is partially borne out by state level GDP data from the U.S. Bureau of Economic Analysis.
Here's my assessment.
First, it is in my mind hazardous to infer too much from the household survey based labor market series, because the sample is usually relatively small, so that there is substantial measurement error. (Ironman focuses on the decline in the 12 month moving average Labor Force Participation Rate, LFPR) As I documented in this post, even for a state as large as California, revisions to the household series are particularly large (while corresponding revisions to the establishment series are usually fairly small).
In any case, the latest vintages of both household and establishment based employment data point to continued expansion.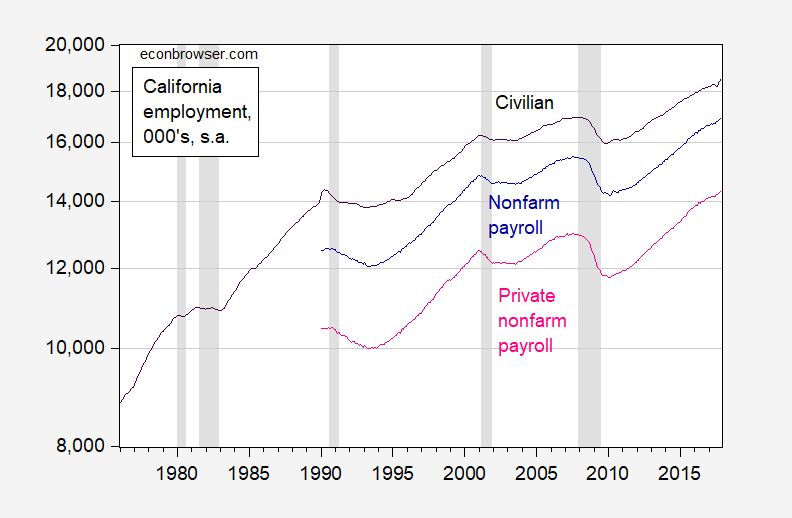 Figure 1: California civilian employment over age 16 from household survey (black), nonfarm payroll employment (dark blue), private nonfarm payroll employment (pink) from establishment survey, all in thousands, seasonally adjusted, on log scale. NBER defined recession dates shaded gray. Source: BLS and NBER.
(California's LFPR has increased 0.2 ppts over the last year through October.)
Second, establishment data suggest California continues to outpace the US (as well as Wisconsin; no need to plot Kansas as you'll know the answer there).

Figure 2: Log nonfarm payroll employment for California (blue), Wisconsin (red), and US (black), seasonally adjusted, normalized to 2011M01=0. Source: BLS and author's calculations.
In fact, the one sector that Dan Walters/Mercury News highlights (and Ironman quotes) relates to manufacturing lagging. On this, Wells Fargo observes:
California's manufacturing employment growth will also likely be revised higher in March. The CES estimated California lost 8,100 manufacturing jobs over the year in June, but the QCEW showed California actually gained 3,400 jobs.
Third, GDP in California year-on-year outpaces that of the Nation as a whole.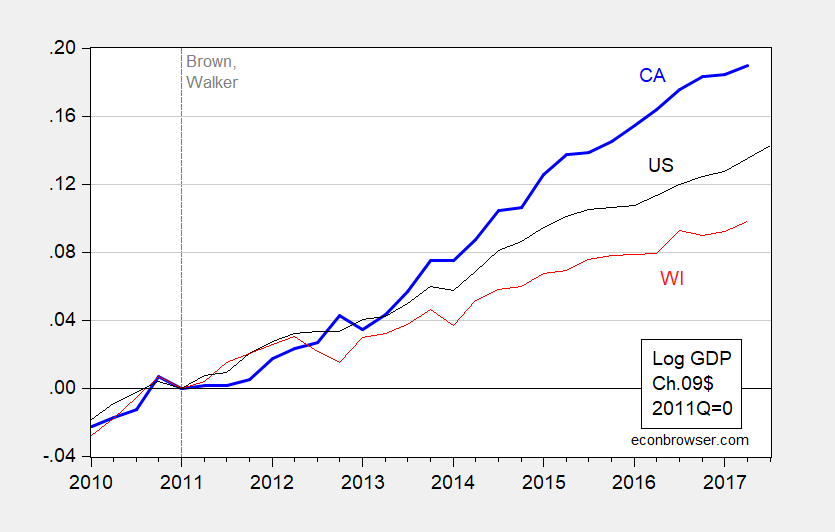 Figure 3: Log GDP for California (blue), Wisconsin (red), and US (black), all SAAR, in Ch.2009$, seasonally adjusted, normalized to 2011Q1=0. Source: BEA and author's calculations.
California GDP growth in 2017H1 was an annualized 1.35% (log terms), compared to the overall Nation's 2.12%. While slower, California GDP growth was not negative. Over the last year through Q2, California grew 2.61% vs. the Nation's 2.18%.
Fourth, the same pattern is true of personal income, which extends through 2017Q3.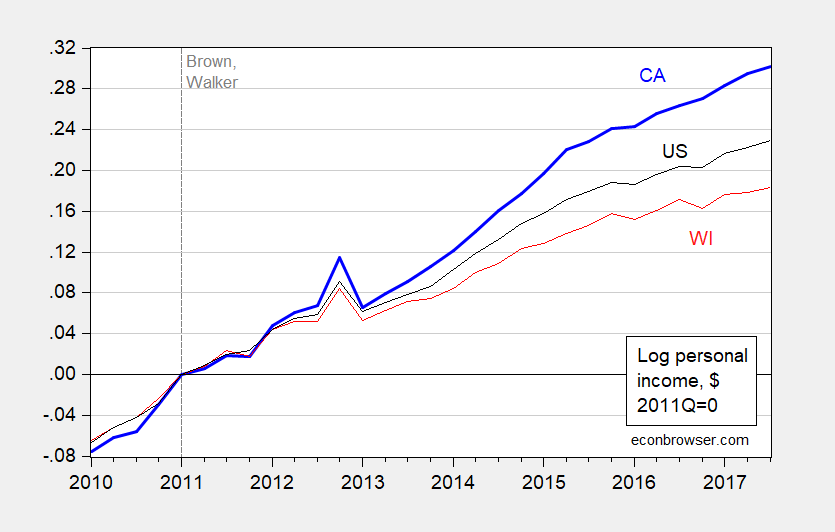 Figure 4: Log personal income for California (blue), Wisconsin (red), and US (black), all SAAR, seasonally adjusted, normalized to 2011Q1=0. Source: BEA and author's calculations.
Not only are current indicators suggestive of continued growth, forward looking measures indicate continuation of growth. The Philadelphia Fed leading indices forecast positive growth in California over the next six months (2.41%, October release) exceeding that forecasted for the US (1.72%).
The UCLA Anderson Forecast released on December 7th indicates:
The Forecast for 2017, 2018 and 2019 total employment growth is 1.2%, 1.5% and 1.1%, respectively. Payrolls will grow at about the same rate over the forecast horizon. Real personal income growth is forecast to be 1.6%, 3.1% and 3.6% in 2017, 2018 and 2019, respectively.
Now, just because current and forward looking indicators do not suggest recession, I won't Pull an Ed Lazear and declare no recession (even when several key indicators were going down as of May 2008, when he made that declaration). All these indicators get revised. But I just don't see an obvious case for a California recession in the data through November 2017.
Question: Why is Breitbart so fixated on a California recession? Could it be a bit of Schadenfreude?