Not lying so much as willfully misleading.
I had the misfortune to watch Stephen Moore debating approval ratings for Trump by African Americans. From RawStory:
…you have to look at [Trump's] record when it comes to civil rights not necessarily what he said or is alleged to have said," Moore answered. "Brooke, if this man is a racist, why is it that his approval rating, among blacks, has increased while he has been president? It's because of his record, not what he says."
Data on this question based upon a systematic methodology is available from Gallup. Here is what WaPo provided based on Gallup data: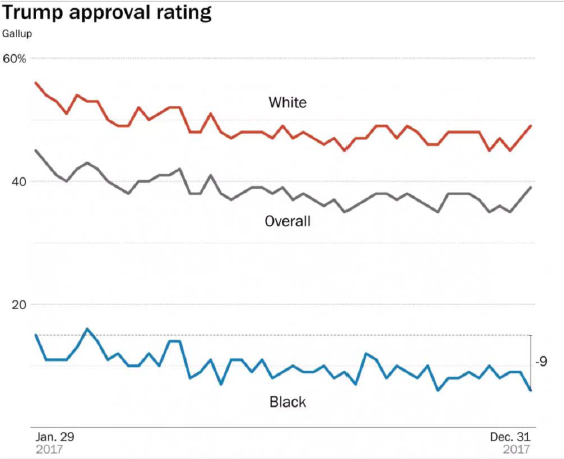 Source: Gallup via WaPo.
I wondered where Mr. Moore obtained his finding. Apparently, as WaPo points out, it's from this Breitbart article, which in turn cites an Atlantic article. The latter article is circumspect about the comparison since it involves exit polls (for 2016) and approval ratings (for 2017), while the Breitbart article infers the trend more explicitly. Since the two samples are different in selection, I'd say it's at least problematic to infer a trend.
And so it goes with Stephen Moore and data. For his treatment of macro data, see this post.