That's a title of a July 28 piece in IBD. He writes:
According to the Energy Information Administration, which tracks energy use in production on a monthly basis, the single largest source of electric power for the first half of 2017 was…coal.
Once again, I can't replicate his results. But even more interesting, the conclusion is misleading.
Using data from the EIA website accessed today, I find natural gas share at 29.0% and coal at 29.3% — pretty close to what Mr. Moore obtained. But then I wondered why the first six months of 2017. How about the five complete months of the Trump administration as of Mr. Moore's article? Then it's coal 28.5%, natural gas 29.4%. Or the 12 months leading up to 2017M06. Then it's coal 30.7%, natural gas 31.2%.
The sensitivity of the results to small changes in sample period suggests a high degree of seasonality. This is confirmed by examination of the data. First, the two shares; second the difference in the two shares.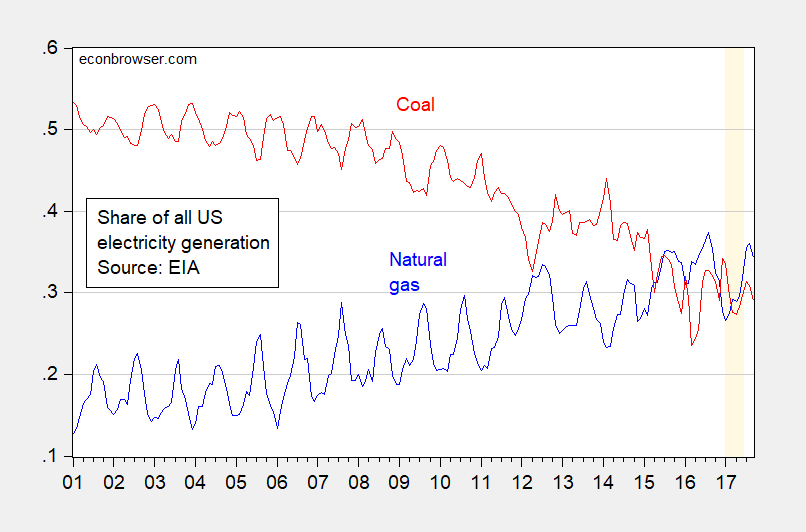 Figure 1: Share of coal in total electricity generation (red) and of natural gas (blue). Light tan shaded area is sample period used by Stephen Moore. Source: EIA.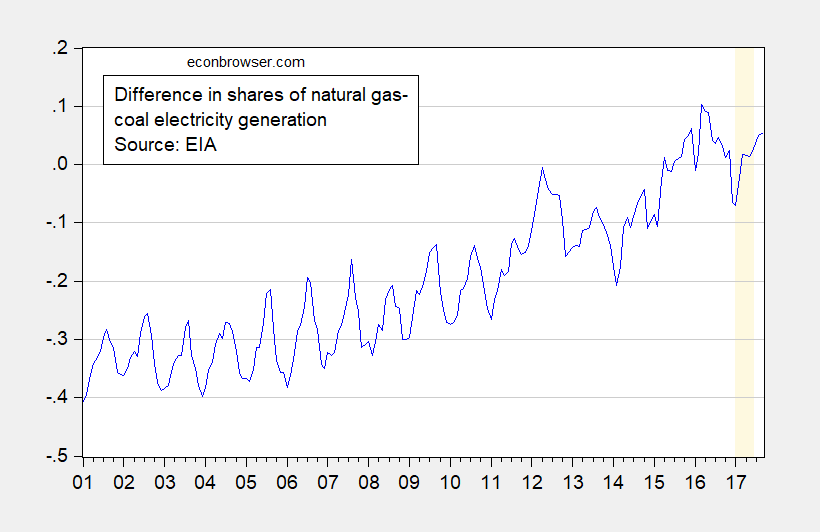 Figure 2: Share of natural gas in total electricity generation minus that of coal (blue). Light tan shaded area is sample period used by Stephen Moore. Source: EIA.
So is there anything particularly special about the first half of the year? One can formally answer that question by running a simple OLS regression of the variable in Figure 2 on a time trend and a dummy variable for the first six months of each year. This yields:
sharedif = -2.36 – 0.053×HALF1 + 0.002×TIME
Adj.-R2 = 0.84, SER = 0.054, DW=0.42. bold numbers denote significant coefficients using 5% msl, and HAC robust standard errors.
In other words, in the first half of the year, the share differential of electricity generation coming from coal is typically higher, by a 5 percentage point amount.
Mr. Moore may be right that coal will gain in importance relative to natural gas in terms of electricity generation. But his reporting of data makes one wonder exactly how robust is the rebound.
Mr. Moore also touts the surge in coal mining:
As for the drilling and mining industries, they have gained more than 50,000 jobs since Trump's election with 8,000 added in June alone. Many of these were in the oil and gas industry, but some were in coal, whose output has increased 12% this year.
The "some" makes you wonder how many. I looked up the most recent vintage of "coal mining employment", and from November 2016 to June 2017, the change was 1,100. I guess that's why he didn't give the number. Here for perspective is the coal employment time series.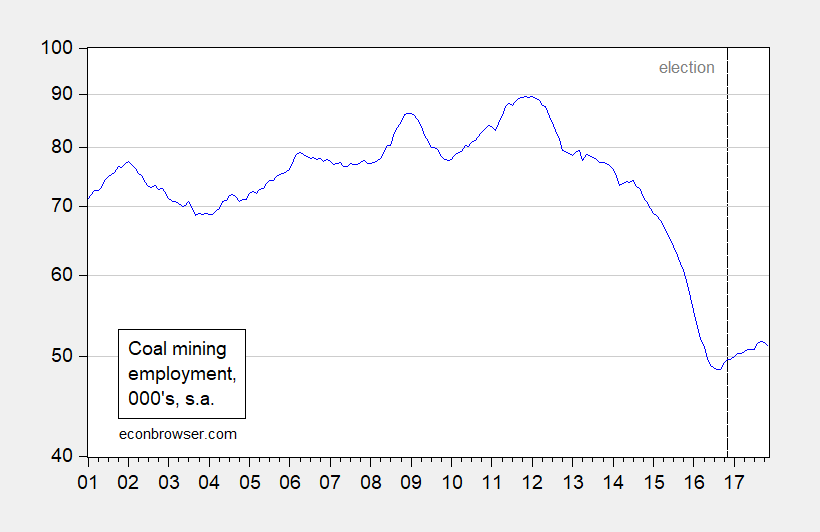 Figure 3: Coal mining employment, 000's, seasonally adjusted (blue), on a log scale. Source: BLS via FRED.
I have no doubt that with certain regulatory moves, and certain relative prices, coal will gain relative to natural gas in electricity generation (although EIA's current Short Term Energy Outlook indicates constant coal share). But I'd want just a little more data before declaring coal once again "No. 1".