Reader Ed Hanson makes a puzzling assertion regarding trade policy measures announced by Mr. Trump, and the evolution of policy uncertainty as measured by Baker, Bloom and Davis:
As for the uncertainty, I can not make your author's calculation but I can look at the front page of the policyuncertainty.com site and look at the headline monthly index they present. All the countries, except India, show a similar chart. So I doubt if such uncertainty across the spectrum is caused by a minor thing such as TPP. But I would not be surprised if some of the spike is coming down from the Chinese US trade spiff. Both these countries show very similar recent chart.
In response to my expressed dubiousness, he writes:
I believe you when you say, "I honestly don't see what he's claiming."

But if you had followed what I said and understood that I wrote of the Monthly Economic Uncertainty Indexes found on the front page at

http://www.policyuncertainty.com/

Just click or watch as they scroll by the circle blips 1,4,5,6,7.and 8. You will see the Global, US, UK, European, Chinese, and Indian monthly index. They look as I described. And no excel, the very good website does it. Quite user friendly.
Here is a plot of the monthly indices for the past two plus years. My impression is that India actually covaries a bit more than the others, contra Hanson.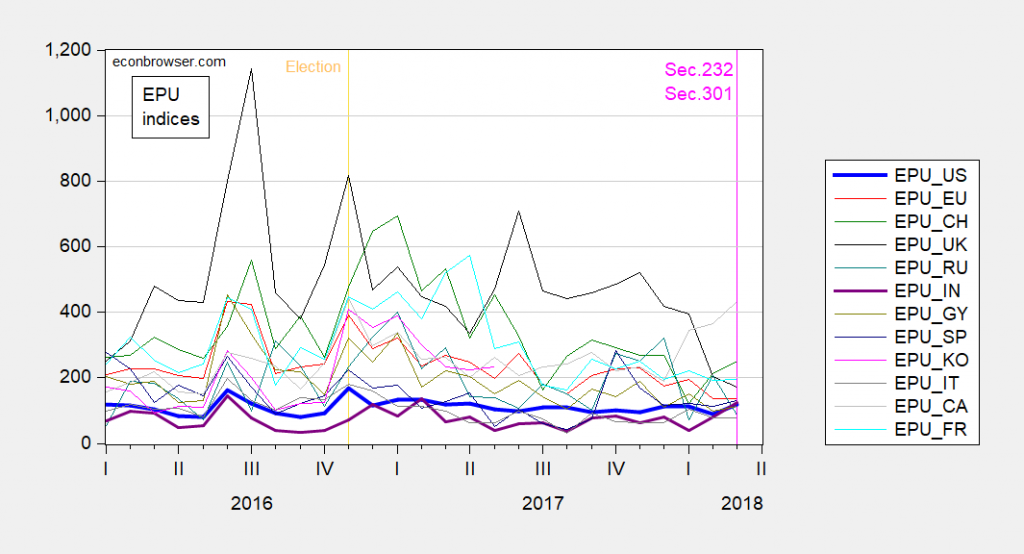 Figure 1: EPU indices accessed 4/13/2018, for US, EUrope, CHina, UK, INdia, GermanY, SPain, KOrea, ITaly, CAnada, FRance. Source: FRED and policyuncertainty.com.
So, apparently, similarity is in the eye of the beholder. Lesson 1: Eybeballing comovements by inspecting individual time series graphs separately, and inferring patterns therefrom, is a ill-advised.
What does a formal evaluation of correlations indicate? In the table below, I present the correlation coefficients for the above indices, for the indicated sample.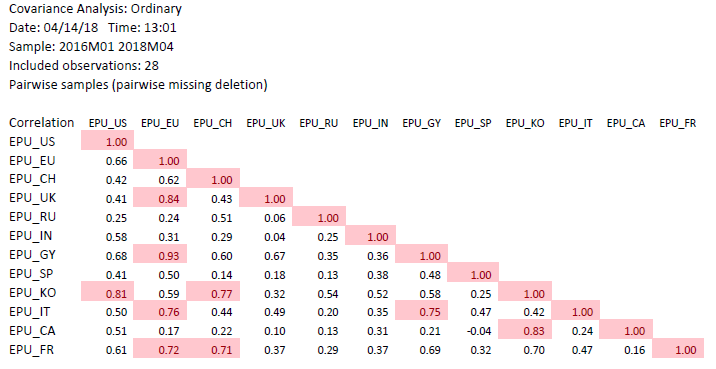 Table 1: Correlation coefficients, 2016M01-2018M03. Korea extends only up to 2017M05. Correlations in excess of 0.707 highlighted pink. Source: FRED and policyuncertainty.com and author's calculations.
A correlation coefficient of 0.707 is consistent with a R2 of 0.5 for a bivariate relationship.
Lesson 2: Formal statistical measures of covariation do not always match up with visual impressions. Hence, actually downloading the data and using formal statistical methods is sometimes (very) useful.
Failing to do so when all the data is publicly accessible, and we live in an era of Excel (or free access spreadsheet software), is — I think — I mistake.
Update, 2:15PM Pacific: Reader Ed Hanson takes issue:
[T]he monthly uncertainty index for the US you so kindly calculated and published shows no such whipsaw your daily chart did.
Note: I took the monthly indices from the website – no calculation on my part. Now, let's take a longer sample. Here I take 1999M01-2018M03.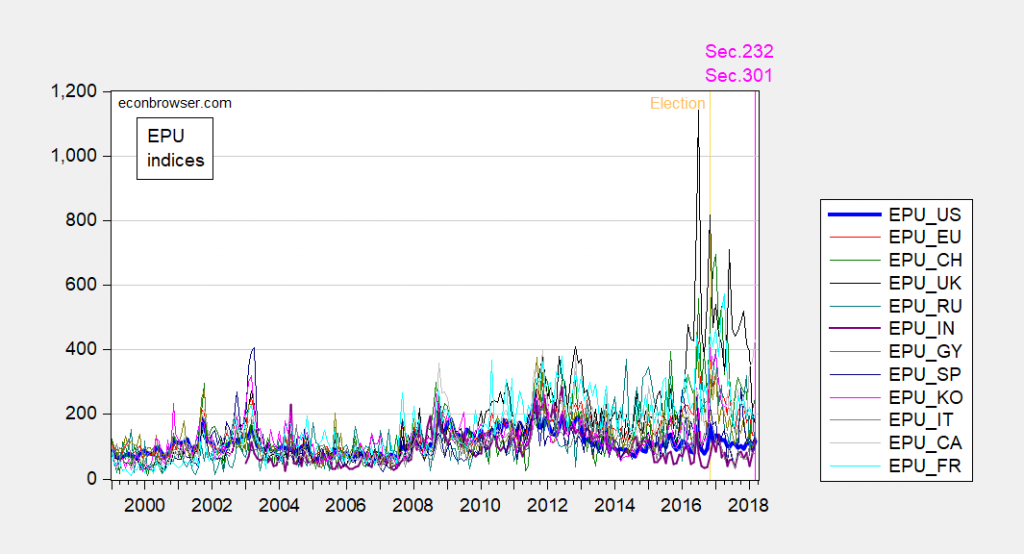 Figure 2: EPU indices accessed 4/13/2018, for US, EUrope, CHina, UK, INdia, GermanY, SPain, KOrea, ITaly, CAnada, FRance. Source: FRED and policyuncertainty.com.
Hard to see anything, but what I can do is see how the March 2018 change compares to usual changes — formally, compare the March 2018 m/m change to the standard deviation: 28.1 vs. 20.1. For a two tail test, about 16% significance. If I increase the sample to the 1985M01-2018M03 period (full), then the p-value declines (i.e., the significance increases).