Using today's state level GDP release, we can assess how highly ranked states like Kansas performed subsequently, as compared to poorly ranked states like California.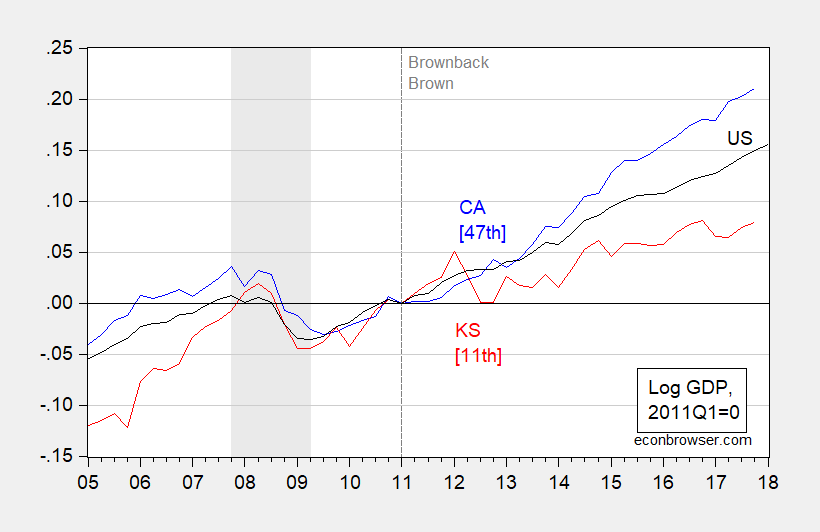 Figure 1: Log California real GDP (blue), Kansas (red), and US (black), normalized to 2011Q1=0. NBER defined recession dates shaded gray. [##] denote Rich States, Poor States 2013 Economic Outlook rankings for 2013 (based on 2012 data). Source: BEA, May 2018, NBER, ALEC, and author's calculations.
Notice that California was ranked 47th in economic outlook by ALEC's Rich States, Poor States, 2013, using data for 2012. Hence, this ranking should reflect policies enacted by the Brown administration. Kansas ranked 11th in that year, reflecting 2012 data and policies of the Brownback administration. If one wanted to take into account the tax plan implemented in 2013, one could use the 2014 ranking of 15th.
For a more systematic analysis of the correlation of ALEC RSPS rankings and subsequent growth, see this post.
By the way, no apparent recession in California in the GDP data, at least, contra Political Calculations. The Philadelphia Fed's coincident indicator for California has risen 1% since December, so apparently growth has continued since 2017Q4. The Philadelphia Fed's leading indicators indicate 1.37% growth over the next 6 months (non-annualized).