Back in mid-December, Political Calculations asked if California was in recession.
Going by these [household survey based labor market] measures, it would appear that recession has arrived in California, which is partially borne out by state level GDP data from the U.S. Bureau of Economic Analysis. [text as accessed on 12/27/2017]
The release of May state-level employment and coincident index figures provides an opportunity to revisit this question — it's likely no recession occurred.
First, the coincident indicators for California and US: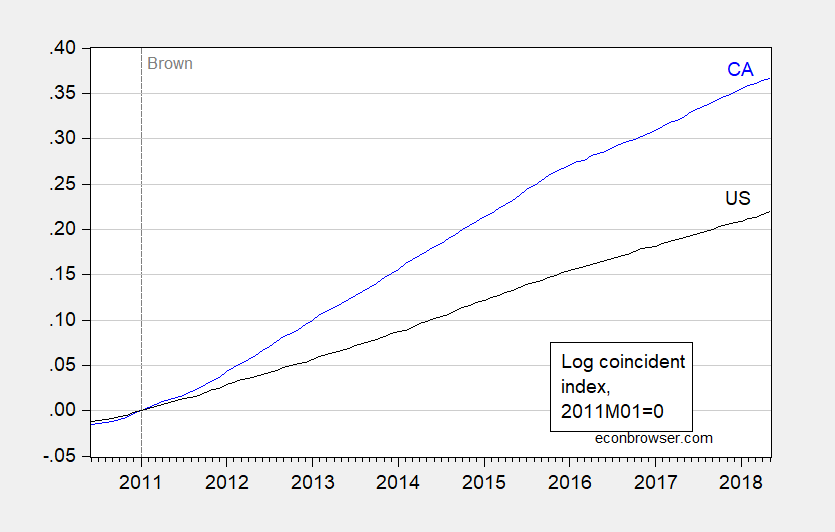 Figure 1: Log coincident index for California (blue), and for US (black), normalized to 2011M01=0. Source: Philadelphia Fed, and author's calculations.
Second, nonfarm payroll employment figures: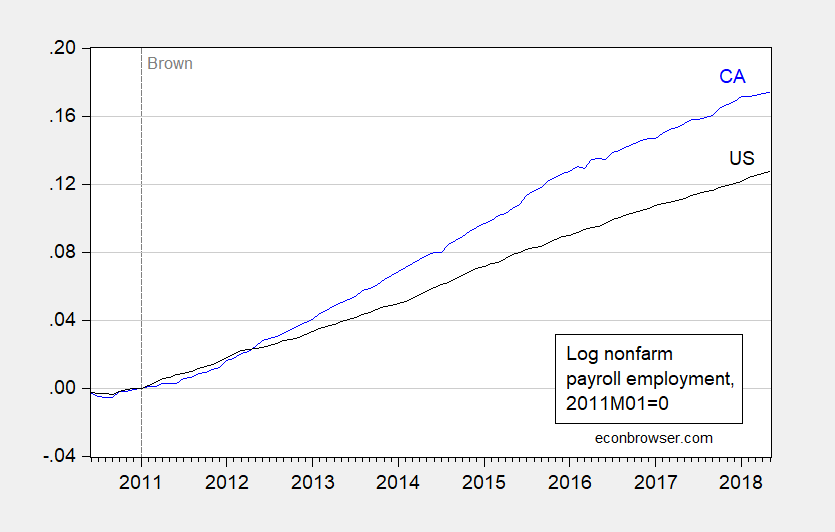 Figure 2: Log nonfarm payroll employment for California (blue), and for US (black), normalized to 2011M01=0. Source: BLS, and author's calculations.
Third, nonfarm payroll and civilian employment figures for California.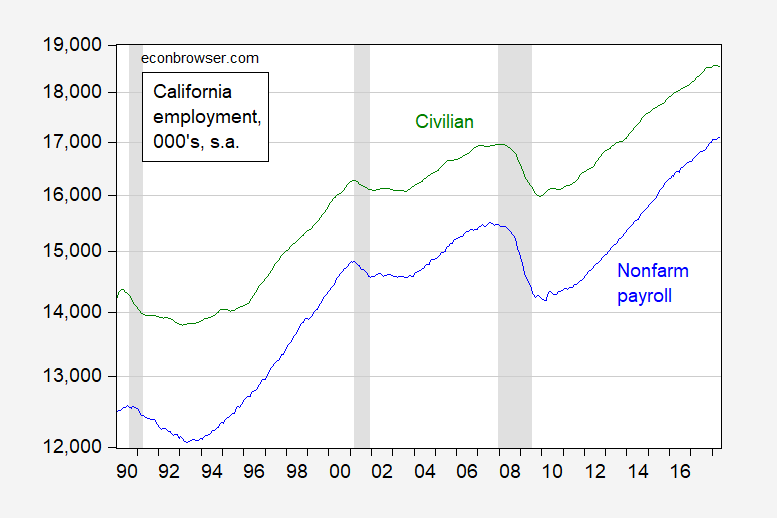 Figure 3: California nonfarm payroll employment (blue), and civilian employment (over 16) (black), 000's, s.a., on log scale. NBER defined recession dates shaded gray. Source: BLS, and NBER.
The civilian employment series from the household survey provides a worrisome trend — until one remembers that the state level household series is subject to subtantial measurement error, even for a state as large as California. To see this, consider what different vintages of the household employment series indicate about the level of employment.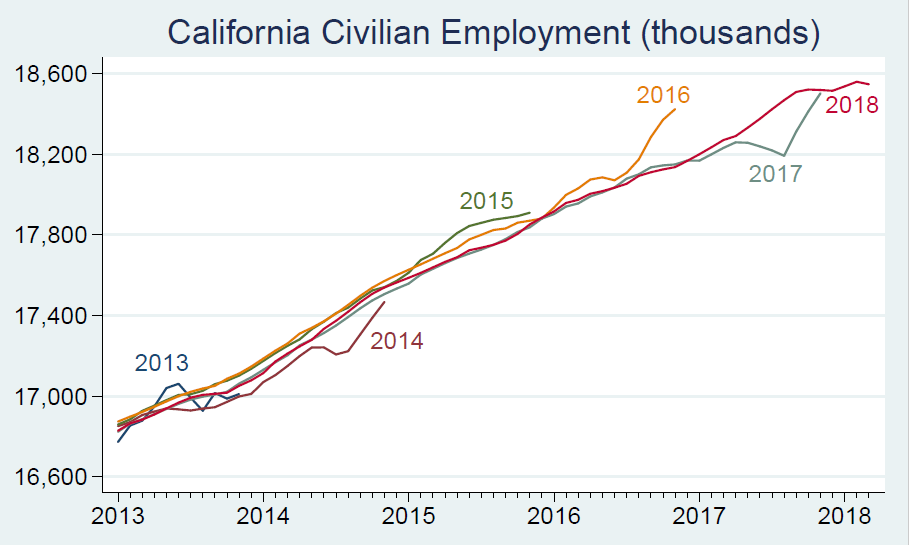 Figure 4: Civilian employment for December of indicated years, and April of 2018. Source: Chinn and LeCloux (forthcoming) using BLS data.
As is obvious, there is tremendous variability in the different vintages of the household employment series, which makes it ill-advised to place too much weight on these series.
Wells Fargo assesses the labor situation thusly:
Month-to-month volatility distracts from the underlying strength still evident in California's year-over-year payroll growth. All of the Golden State's major industry payrolls are up over the year, except other services. Manufacturing payrolls are expanding solidly after languishing for much of 2017. Industrial machinery, computer and electronic products, semiconductors and motor vehicle producers are all expanding payrolls solidly. Construction employment is growing across California, with residential building and nonresidential building expanding payrolls along with heavy and civil engineering and specialty contractors. A push for more affordable housing in California's major metro areas is fueling construction in most of California's larger metro areas and is also spurring more development in the Inland Empire and Central Valley.
Other aggregates are shown in this post Through 2018Q1, personal income is up 5.1% (log terms). Real GDP through 2017Q4 is up 3% (log terms).
All these data suggest to me that California did not, and is not currently in, recession. For previous assessments, see: [1] [2] [3] [4] [5] [6].
Of course, all bets are off going forward, as California is a steel using, export oriented state, and Mr. Trump seems intent to damage both of these sectors.