(Apologies to P.F.S./B.McG) Soybean, hog prices and corn prices dove even before the Section 301 import tax hit list was announced. (Orange dashed line denotes Trump announcing imminent Section 232 tariffs). Why?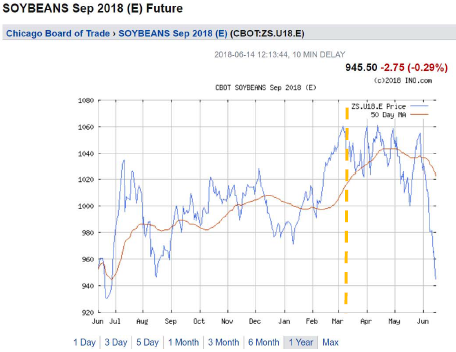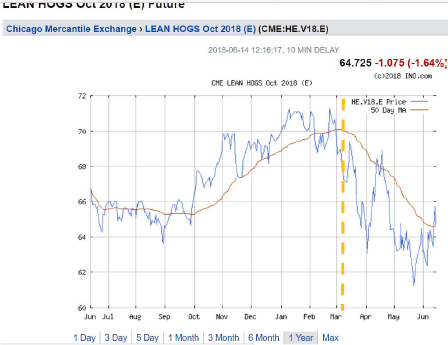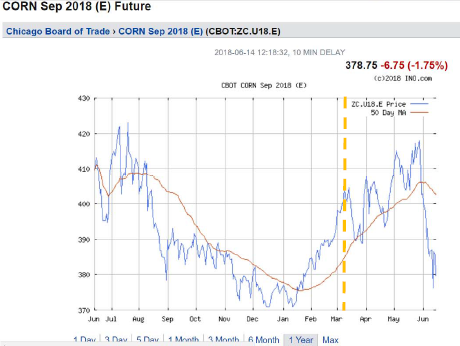 All graphs downloaded from ino.com today.
Several observers (e.g., [1]) have argued that the downward slide in soybean prices are due to weather/crop planting developments. I would be the last to deny that conventional ag supply/demand factors are important (e.g., Argentine weather and soybeans). However, there were no developments in Argentina affecting the outlook for corn (but corn is certainly on the EU hit list). Certainly not for hogs (which is on the Mexican hit list). Interestingly, wheat has not exhibited the same pattern, as shown below (this is on the Chinese hit list, but China doesn't import much, around $350 bn mn in 2017). Abbreviated summary of targets here).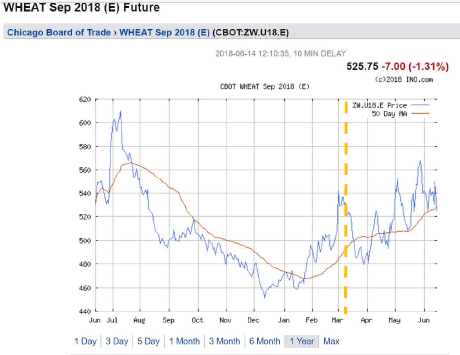 So, the fact that the selloff is in three highly targeted commodities, and not in one little-targeted commodity, suggests to me that the threat of retaliation is weighing heavily on prices. (For soybeans, see here on the primacy of trade concerns.)
By the way, why look at futures prices? Because.
Update: As of 12:19PM Pacific, nearest month soybean futures down 2.05% today. I do not know of any market moving information regarding plantings/weather coming out today (6/15), but I would welcome hearing.