Ed Hanson writes, after plotting the data:
The graph shows, in general, Minnesota's increasing gap of per capita income over Wisconsin since at least 1970. It is not just since 2011 that this trend began.
This observation is right in a way — wrong in a deeper, more economically interesting, way. Investigation highlights the usefulness of the log function.
First, let's graph per capita personal income, as Ed Hanson admonishes me.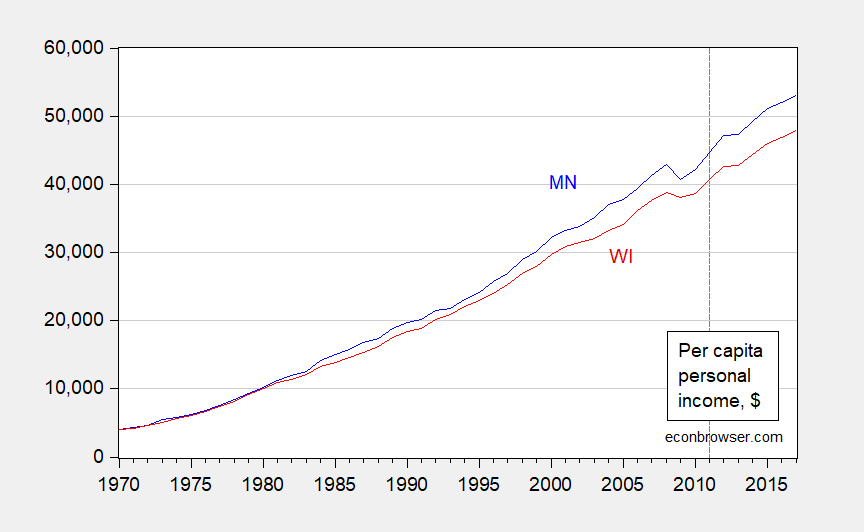 Figure 1: Personal income per capita in Minnesota (blue), in Wisconsin (red), in dollars. Source: BEA.
The gap sure seems to be ever widening. But notice what happens if one plots the two series in proportional terms, i.e., on a log scale.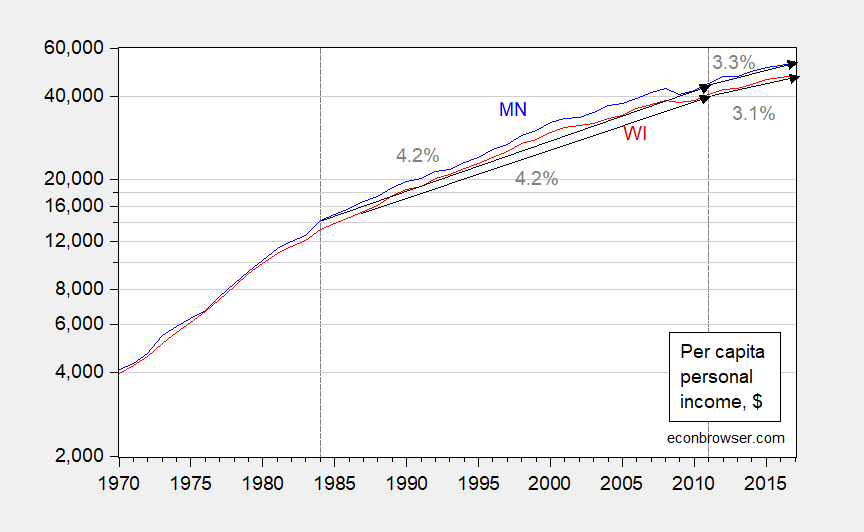 Figure 2: Personal income per capita in Minnesota (blue), in Wisconsin (red), in dollars, both on a log scale. Gray arrows and figures denote growth rates calculated as first log differences, over 1985-2011 and 2011-2017 periods, respectively. Source: BEA, and author's calculations.
A gap opens up in 1984 due to a short burst of growth in Minnesota relative to Wisconsin income. Then the gap in proportional terms is constant. Until about 2011. Then the growth rate differs from zero, at the 27% msl…
Hopefully, instead of criticizing me like he did the last time I mentioned logs, Ed Hanson will cut me some slack as I have plotted the series on a log scale, rather than logging the variables before plotting.
Bottom line: Think before interpreting a graph of macroeconomic time trends, especially if you've plotted on a linear scale.
Update, 7/19 7:30AM Pacific: Ed Hanson writes:
Are you saying FRED is lying? Is the data made up? Or is the data presented in an honest way and presents the data properly? It is honest and the presentation is powerful.
Since Ed appears to only believe data plotted in FRED, here is my Figure 2, from FRED.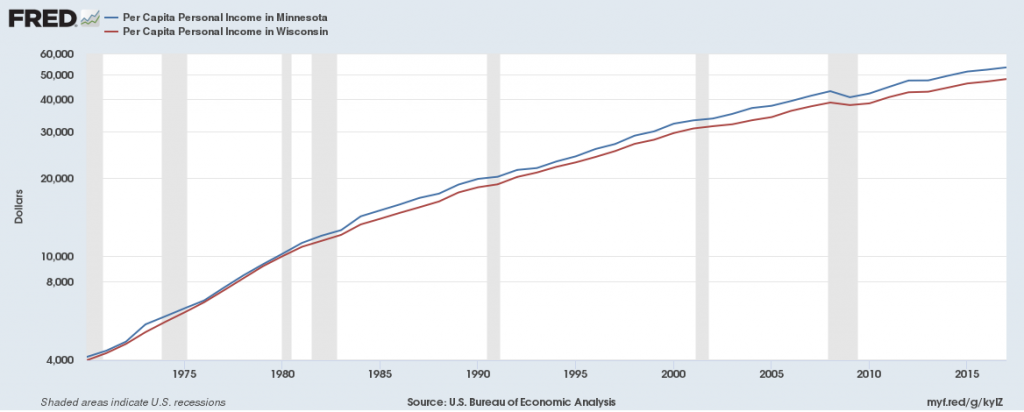 I hope Ed Hanson doesn't think the "deep state" or "black helicopter" guys have got to FRED…
Addendum, 7/19 8:50AM Pacific: Ed Hanson continues to describe the contents of this post as:
… the propaganda as exemplified here by Menzie ….
I am thankful he did not describe me as a "socialist" again. Still, apparently now I am the Herr Goebbels of the socialist power elite. Woe to those who use logs!