USDA announced some $12 billion of suppport for agriculture today (partly via resurrecting the activities of the Commodity Credit Corporation (CCC). Besides it being potentially WTO-inconsistent (I think it fits into at least the amber box), one characterization of the measure is:
"It would be a band-aid – how do you decide who gets what?"
Immediate response was positive. See (again) soybean futures, for November delivery.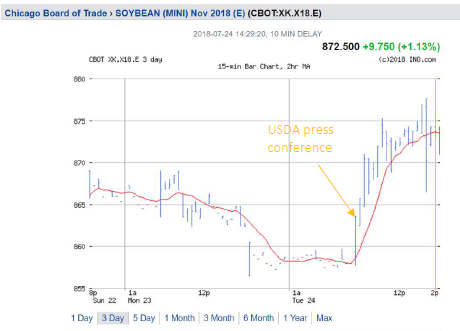 Source: ino.com accessed 7/24/2018.
However, one can see the impact in perspective is less than satisfying, at least to soybean farmers.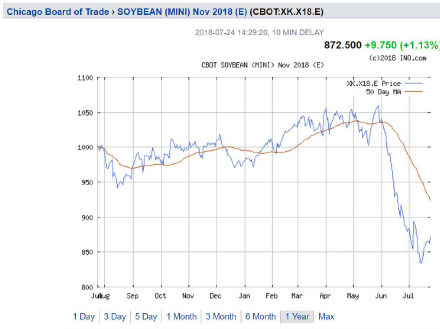 Source: ino.com accessed 7/24/2018.
With prices at $10.50 as recently as May, the (rebounded) price of $8.725 is still a big drop.
All this is pretty ironic (if one can still use that word in these times), given that the first version of the Trump farm bill envisioned cutting back drastically on farm subsidies. But now, we are spending $12 billion to offset the tariffs we've placed, and have been placed upon us, as a consequence of Trump's decision.
Double irony: my paper with Peter Navarro on the conduct of farm policy, dealt with the role of special interests (not cast in a positive light, by the way).