Following up on Chinn-LeCloux (2018), here are five aggregates for the Kansas economy.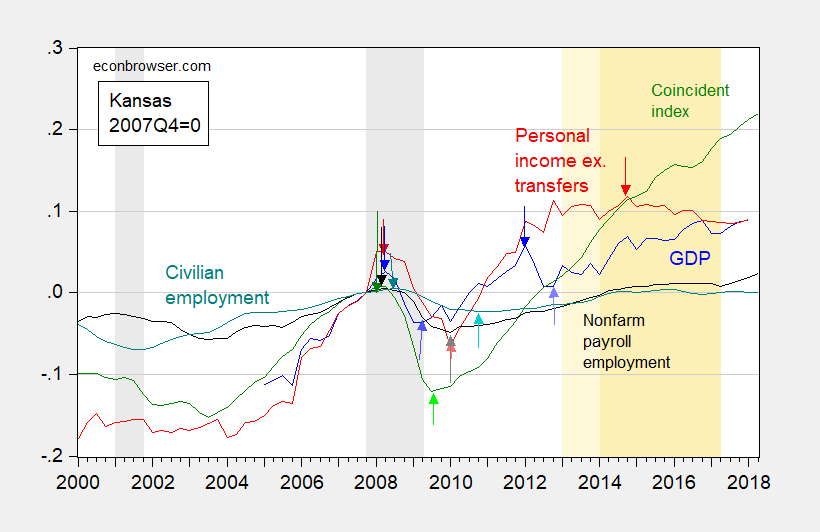 Figure 1: Kansas Real GDP (blue), real personal income (red), coincident index (green), nonfarm payroll employment (black) and civilian employment (teal), all in logs, normalized to 2007Q4=0. Dark arrows (↓) denote peaks, light arrows (↑) denote troughs. NBER defined national recession dates shaded gray. Orange shading indicates tax cuts implemented. Source: BEA, Philadelphia Fed, BLS, and author's calculations.
The time series for Kansas evidence a different pattern of behavior than indicated in other state series discussed in Chinn and LeCloux. In particular, using the two-quarter rule of thumb, there were recessions in 2012Q2-Q4, 2013Q2-Q3, 2015Q3-Q4, and 2017Q1-Q2. (One could argue that Kansas was in near continuous recession 2012Q2-2013Q3).
Looking at local maxima and minima instead, post-Great Recession, there appears to be another peak in GDP in 2012Q1, and another trough in 2012Q4. Perhaps even more intriguingly, the last peak in real personal income excluding transfers was 2014Q4. Currently (as of 2018Q1), real personal income ex-transfers is 2.8% lower than that peak value. Including government transfers, personal income is down 1.4%.
Another interesting development shown in the figure is that GDP and nonfarm payroll employment have rebounded since the tax cut was partly rescinded in June 2017.
The Philadelphia Fed's coincident and leading indices show current growth and forecasted growth is positive.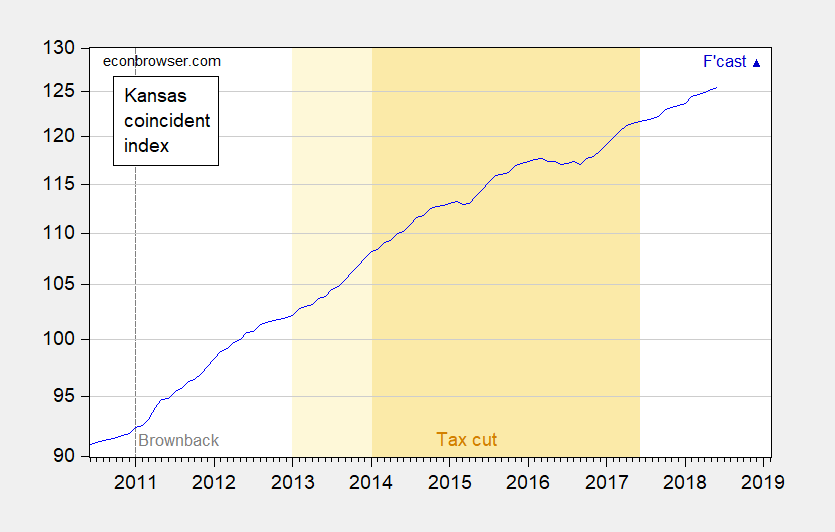 Figure 2: Kansas coincident index (blue), on log scale. December 2018 observation (blue triangle) is implied by leading index. Orange shading denotes tax cut. Source: Federal Reserve Bank of Philadelphia, and author's calculations.
Note that Brown (2017), using the Bry-Boschan algorithm and the indices available at that time, found Kansas to be in recession as of September 2016. This timing derived from the coincident index differs somewhat from that obtained using the other indicators.