Reuters has an interesting article, entitled "Inside China's strategy in the soybean trade war".
Mu Yan Kui … ticked off a six-part strategy to slash Chinese consumption and tap alternate supplies with little financial pain.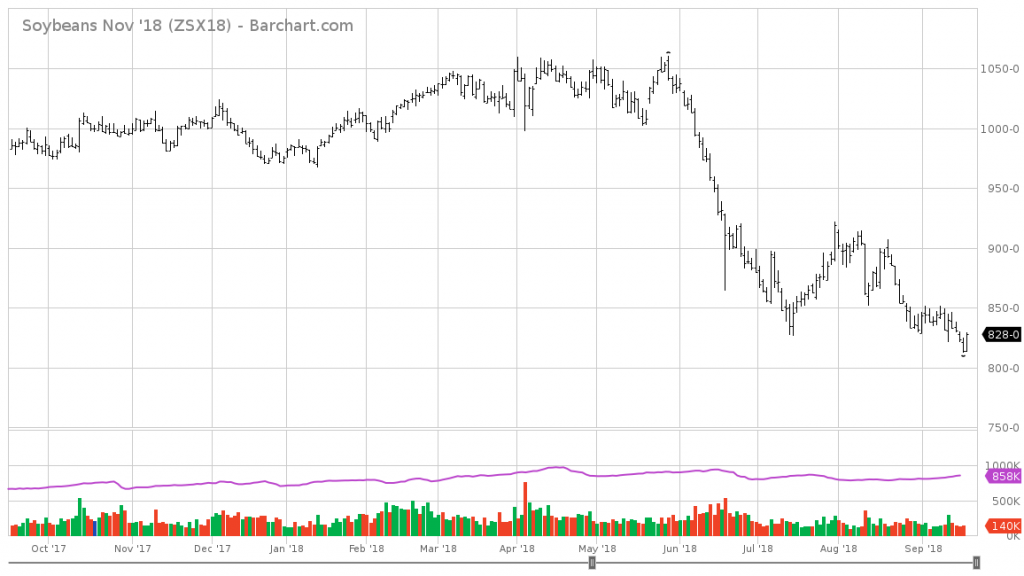 Source: barchart.com.
…"Many foreign business people and politicians have underestimated the determination of Chinese people to support the government in a trade war," said Mu, vice chairman of Yihai Kerry, owned by Singapore-based Wilmar International (WLIL.SI).

The comments echo a growing confidence within China's soybean industry and government that the world's largest pork-producing nation can wean itself off U.S. soy exports – a prospect that would decimate U.S. farmers, upend a 36-year-old trading relationship worth $12.7 billion last year, and radically remap global trade flows.

…

Just one prong of the strategy Mu detailed – to slash soymeal content in pig feed – could obliterate Chinese demand for U.S. soybeans if broadly adopted, according to Reuters calculations.

Cutting the soy ration for hogs from the typical 20 percent to 12 percent would equate to a demand reduction of up to 27 million tonnes of soybeans per year – an amount equal to 82 percent of Chinese soy imports from the United States last year. Chinese farmers could cut soymeal rations by nearly half without harming hogs' growth, experts and academics said.

Soy meal provides the protein and amino acids that pigs need to thrive, but reducing their use will be easier in China than elsewhere because farmers here have long included more soy than needed to keep their hogs healthy, according to industry experts in China and the United States.
Now, the expert from Purdue University, Wallace Tyner, was skeptical because of the costs entailed in switching feed sources (his cost analysis assuming a 30% tariff on US soybeans, discussed here).
I am hardly an expert in Chinese policy making. However, nobody who has been regaled with stories of the Opium Wars and the Unequal Treaties (as I have) can discount the burdens the Chinese leadership is willing to bear to avoid losing face, despite the ultimate pragmatism of the Party leaders. Hence, it remains to be seen whether the Chinese will relent as Mr. Trump has asserted, or whether they will tough it out.
The investment bank economist assessments indicate that both sides are settling in for a long period of heightened tariff levels, consistent with the Chinese not relenting. In other words, I do not think they believe "home before the leaves fall" is a good prediction.
Soybean futures confirm (price per bushel today for November futures, $8.28, compare against maximum on 5/29 of $10.60).