Q/q Chinese growth in 2018Q3 is estimated at 1.6% (not annualized), after downwardly revised 1.7% rate in Q2. Y/y growth was 6.5%. [1] [2]
There are two things to remember. First, reported GDP growth is implausibly smooth; even so, this is not proof that GDP is overstated. There is widespread belief that services are undercounted; hence the level of GDP might be higher than reported, even if the growth rate is lower. On this second count of growth rates, we might profitably refer to alternative estimates.
The Li Keqiang index (40% electricity consumption, 40% outstanding loan growth, 20% rail freight) is the most common reference. This index provides a different perspective.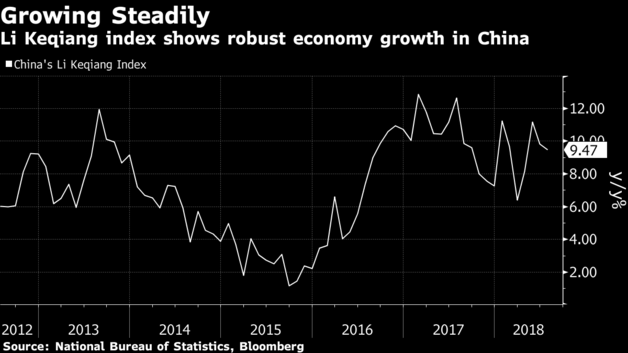 Source: Ailing Tan.
Fernald, Malkin and Spiegel (2013) show that the Li Keqiang index correlated well with y/y GDP growth through 2012. If there has been a subsequent tendency to overstate GDP growth, then a deviation should have shown up since then.
Here are some other indicators.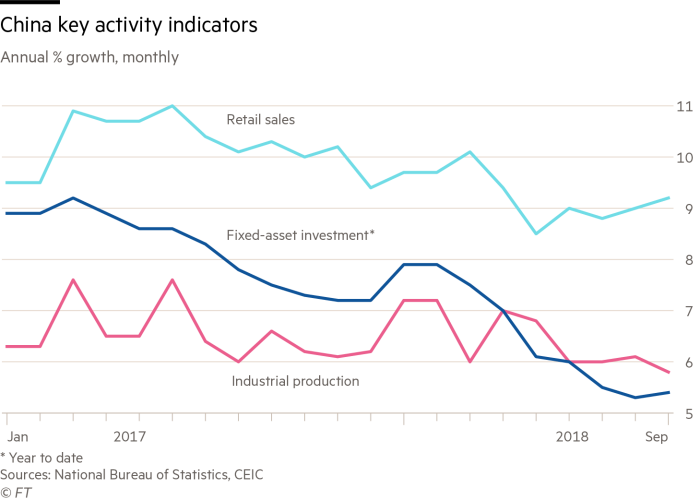 Source: FT.
Finally, it would be nice to see what a more recently suggested proxy measure — satellite based measurement of light generation (i.e., luminosity) — indicates. Clark, Pinkovskiy, and Sala-i-Martin (2017) use such a measure, and develop an alternative estimate of GDP growth for the 2004-16 period.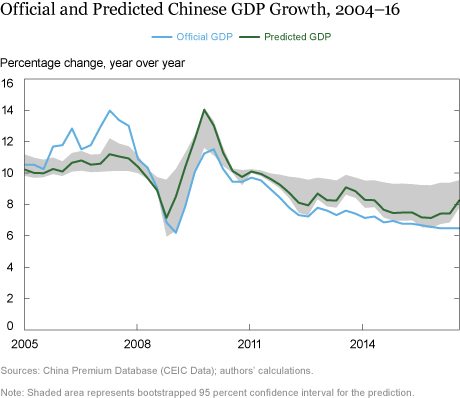 Source: Clark, Pinkovskiy, and Sala-i-Martin.
Owyang and Shell (2017) also examine luminosity data. Unfortunately, I haven't been able to find a recent luminosity-based estimate of Chinese economic activity.
So, based on the Li Keqiang index (as estimated at mid-September) it does look like the floor is not falling out from under the Chinese economy. On the other hand, I would never disagree with Eswar Prasad, who warns in FT:
"China's slower but still strong headline growth masks rising domestic and external vulnerabilities that are likely to presage a further growth slowdown in the absence of concerted policy measures."
I have faith in the ability of the Chinese policy authorities to sustain growth in the short term (likely at the expense of incurring a buildup in already high debt levels, over the longer term).