It doesn't get much more real than this, when the Fed has to take into account the implications of global climate change. Glenn D. Rudebusch,  senior policy advisor and executive vice president at the Federal Reserve Bank of San Francisco, lays out the issues in this letter.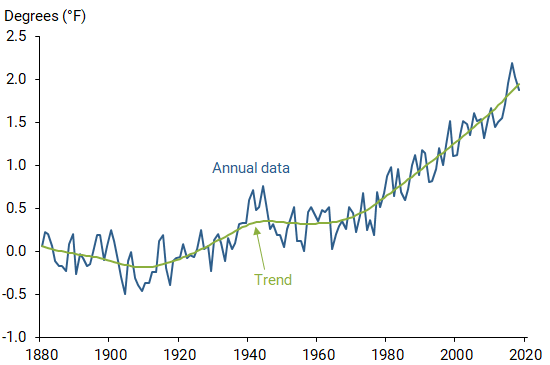 The well-known threats posed by global climate change are briefly reviewed. Regarding the Fed's role, Rudebusch writes:
Given the role of government in addressing climate change, how does the Federal Reserve fit in? In particular, how does climate change relate to the Fed's goals of financial and macroeconomic stability? With regard to financial stability, many central banks have acknowledged the importance of accounting for the increasing financial risks from climate change (Scott, van Huizen, and Jung 2017, NGFS 2018). These risks include potential loan losses at banks resulting from the business interruptions and bankruptcies caused by storms, droughts, wildfires, and other extreme events. There are also transition risks associated with the adjustment to a low-carbon economy, such as the unexpected losses in the value of assets or companies that depend on fossil fuels. In this regard, even long-term risks can have near-term consequences as investors reprice assets for a low-carbon future. Furthermore, financial firms with limited carbon emissions may still face substantial climate-based credit risk exposure, for example, through loans to affected businesses or mortgages on coastal real estate. If such exposures were broadly correlated across regions or industries, the resulting climate-based risk could threaten the stability of the financial system as a whole and be of macroprudential concern. In response, the financial supervisory authorities in a number of countries have encouraged financial institutions to disclose any climate-related financial risks and to conduct "climate stress tests" to assess their solvency across a range of future climate change alternatives (Campiglio et al. 2018).

Some central banks also recognize that climate change is becoming increasingly relevant for monetary policy (Lane 2017, Cœuré 2018). For example, climate-related financial risks could affect the economy through elevated credit spreads, greater precautionary saving, and, in the extreme, a financial crisis. There could also be direct effects in the form of larger and more frequent macroeconomic shocks associated with the infrastructure damage, agricultural losses, and commodity price spikes caused by the droughts, floods, and hurricanes amplified by climate change (Debelle 2019). Even weather disasters abroad can disrupt exports, imports, and supply chains close to home. As a much more persistent factor, Colacito et al. (2018) found that the current trend toward higher temperatures on its own has slowed growth in a variety of sectors. They estimated that increased warming has already started to reduce average U.S. output growth and that, as temperatures rise, growth may be curtailed by more than ½ percentage point later in this century.

On top of these direct effects, climate adaptation—with spending on equipment such as air conditioners and resilient infrastructure including seawalls and fortified transportation systems—is expected to increasingly divert resources from productive capital accumulation. Similarly, sizable investments would be necessary to reduce carbon pollution and mitigate climate change, and the transition to a low-carbon future may affect the economy through a variety of other channels (Batten 2018). In short, climate change is becoming relevant for a range of macroeconomic issues, including potential output growth, capital formation, productivity, and the long-run level of the real interest rate.

Nevertheless, some view the economic and financial concerns surrounding climate change as having either too short or too long a time horizon to affect monetary policy decisions. Indeed, at the short end, monetary policy typically does not react to temporary disturbances from weather events like hurricanes or blizzards. However, climate change could cause such shocks to grow in size and frequency and their disruptive effects could become more persistent and harder to ignore. At the long end, most of the consequences of climate change will occur well past the usual policy forecast horizon of a few years ahead. However, even longer-term factors can be relevant for monetary policy. For example, central banks routinely consider the policy implications of demographic trends, such as declining labor force participation, which have long-run effects much like climate change. In addition, prices of equities and long-term financial assets depend on expected future conditions, so even climate risks decades ahead can have near-term financial consequences. Climate change could also be a factor in achieving and maintaining low inflation. It took a decade or two—a relevant time scale for climate change—for the Fed to achieve its inflation objective after the Great Inflation of the 1970s and the Great Recession. Finally, the economic research that quantifies optimal monetary policy routinely uses a very long-run perspective that takes into account inflation and output quite far out in the future.
For an assessment of what the Federal government as an entity can do, see James H. Stock's report written in 2014 while he was a member of Obama's Council of Economic Advisers:
…any short run gains from delay tend to be outweighed by the additional costs arising from the need to adopt a more abrupt and stringent policy later.7 An analysis of the collective results from that research, described in more detail in Section II, suggests that the cost of hitting a specific climate target increases, on average, by approximately 40 percent for each decade of delay. These costs are higher for more aggressive climate goals: the longer the delay, the more difficult it becomes to hit a climate target. Furthermore, the research also finds that delay substantially decreases the chances that even concerted efforts in the future will hit the most aggressive climate targets.
The paper presents a meta-analysis of costs and delays:
…The data set for this analysis consists of the results on all available numerical estimates of the average or total cost of delayed action from our literature search. Each estimate is a paired comparison of a delay scenario and its companion scenario without delay. To make results comparable across studies, we convert the delay cost estimates (presented in the original studies variously as present values of dollars, percent of consumption, or percent of GDP) to percent change in costs as a result of delay.20 We capture variation across study and experimental designs using variables that encode the length of the delay in years; the target CO2e concentration; whether only the relatively more-developed countries act immediately (partial delay); the discount rate used to calculate costs; and the model used for the simulation.21 All comparisons consider policies and outcomes measured approximately through the end of the century. To reduce the effect of outliers, the primary regression analysis only uses results with less than a 400 percent increase in costs (alternative methods of handling the outliers are discussed below as sensitivity checks), and only includes paired comparisons for which both the primary and delayed policies are feasible (i.e. the model was able to solve for both cases).22 The dataset contains a total of 106 observations (paired comparisons), with 58 included in the primary analysis. All observations in the data set are weighted equally.

Analysis of these data suggests two main conclusions, both consistent with findings from specific papers in the underlying literature. The first is that, looking across studies, costs increase with the length of the delay. Figure 2 shows the delay costs as a function of the delay time. Although there is considerable variability in costs for a given delay length because of variations across models and experiments, there is an overall pattern of costs increasing with delay.

For example, of the 14 paired simulations with 10 years of delay (these are represented by the points in Figure 2 with 10 years of delay), the average delay cost is 39 percent. The regression line shown in Figure 2 estimates an average cost of delay per year using all 58 paired experiments under the assumption of a constant increasing delay cost per year (and, by definition, no cost if there is no delay), and this estimate is 37 percent per decade. This analysis ignores possible confounding factors, such as longer delays being associated with less stringent targets, and the multiple regression analysis presented below controls for such confounding factors.
The entire report is here. See also this post. The usual skeptics of anthropogenic climate change can refer to this post.
In light of the recent flooding of US Air Force bases in the midwest, it is of interest to consider the military-strategic implications. A recent Department of Defense report covers this topic (Effects of a Changing Climate to the Department of Defense, January 2019). Other material, here.