From the abstract to the paper:
… we use an extensive dataset of 1,372 climate
researchers and their publication and citation data to show that (i)
97-98% of the climate researchers most actively publishing in the
field support the tenets of ACC outlined by the Intergovernmental
Panel on Climate Change, and (ii) the relative climate expertise and
scientific prominence of the researchers unconvinced of ACC are
substantially below that of the convinced researchers.
Here are the key graphs from "Expert credibility in climate change," Proceedings of the National Academy of Sciences (2010). Note that UE denotes unconvinced; CE denotes convinced (by the thesis of anthropogenic climate change).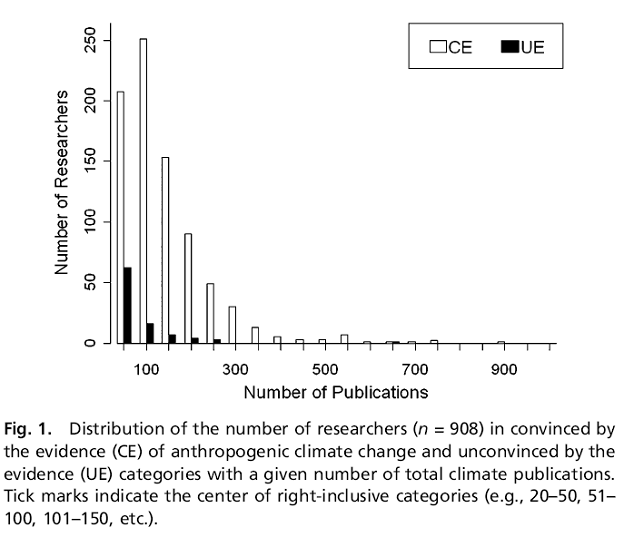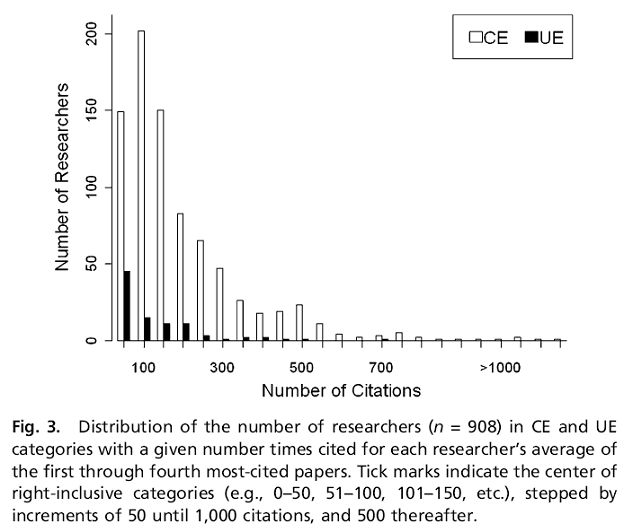 In other words, the climate scientists that are better published tend to be convinced of anthropogenic climate change; moreover, the ones that are better cited also tend to be more convinced of ACC.
For those who are dis-inclined to read the article, but are worried about selection bias, here is the method by which the authors selected the sample of climate scientists.
To examine only researchers with demonstrated climate expertise, we
imposed a 20 climate-publications minimum to be considered a climate researcher,
bringing the list to 908 researchers (NCE = 817; NUE = 93). Our dataset
is not comprehensive of the climate community and therefore does not infer
absolute numbers or proportions of all CE versus all UE researchers. We acknowledge
that there are other possible and valid approaches to quantifying
the level of agreement and relative credibility in the climate science community,
including alternate climate researcher cutoffs, publication databases,
and search terms to determine climate-relevant publications. However, we
provide a useful, conservative, and reasonable approach whose qualitative
results are not likely to be affected by the above assumptions. We conducted
the above analyses with a climate researcher cutoff of a minimum of 10 and
40 publications, which yielded very little change in the qualitative or strong
statistically significant differences between CE and UE groups. Researcher
publication and citation counts in Earth Sciences have been found to be
largely similar between Google Scholar and other peer-review-only citation
indices such as ISI Web of Science (20). Indeed, using Google Scholar provides
a more conservative estimate of expertise (e.g., higher levels of publications
and more experts considered) because it archives a greater breadth of sources
than other citation indices. Our climate-relevant search term does not, understandably,
capture all relevant publications and exclude all nonrelevant
publications in the detection and attribution of ACC, but we suggest that its
generality provides a conservative estimate of expertise (i.e., higher numbers
of experts) that should not differentially favor either group.
Now, it seems despite the obvious relevance of global climate change to economic activity, some Econbrowser readers are skeptical of the link. For the skeptics, see these reports: