"Re-run" is an archaic phrase from my generation. It means to replay a previously recorded and broadcast television show. Here, this "rerun" seems appropos. I think that the cost to Xi of backing down is even greater given Trump's tariff threat came close to the day of the 100th Anniversary of the May 4th Movement — a sensitive occasion for the CCP. From an August 2018 post.
Notable differences. US GDP fundamentals less robust than in August. Chinese growth fundamentals (in the short run) are stronger. Remember this despite the fact that that Liu He is joining the negotiating team coming to Washington, D.C.
NEC Chair Kudlow in response to the Chinese threat to impose tariffs on an additional $60 billion worth of goods (from Bloomberg).
"Their economy's weak, their currency is weak, people are leaving the country. Don't underestimate President Trump's determination to follow through."
When I hear Kudlow, and/or Mr. Trump, say something along these lines, I think back to a pungent aphorism I once heard being used between my parents, describing overweening hubris. I bet it's being used in the hallways of Zhongnanhai (it was a sufficiently arcane phrase, so at the time I had to ask for a translation from my father).
Instead of engaging in debate over toughness, I think a more profitable route to understanding is to consider the payoff matrix to Mr. Trump vs. Mr. Xi. In other words, we should just consider the amount of pain that can be inflicted on each nation (e.g., US imports much more from China than China imports from the US), but rather what costs and benefits each leader faces.
For Trump, imposing tariffs just before the midterm elections would push up prices of imported goods — but with tariffs imposed on an additional $200 billion Chinese goods, some of those goods must necessarily be consumer goods, and so directly visible in terms of impact. The benefits would be to shore up the xenophobic elements of the Trump base.
For Xi, imposing tariffs will raise food costs, hit economic activity in sectors (particularly export) dependent on US imports. But the state could step in to subsidize food costs, subsidize agricultural production (already being done), and let the currency depreciate in order to offset decreased export competitiveness. None of these are painless, but for a regime that has incurred tremendous costs to buy domestic stability, I don't think they weigh heavily. On the other hand, what's the cost to Xi of seeming to kowtow to Turmp, in terms of perceptions of the Party leader's strength? I'd say (as a non-expert on Chinese domestic politics) it's probably high.
So, draw a net payoff matrix for Trump/Xi. Let's say it's in reality: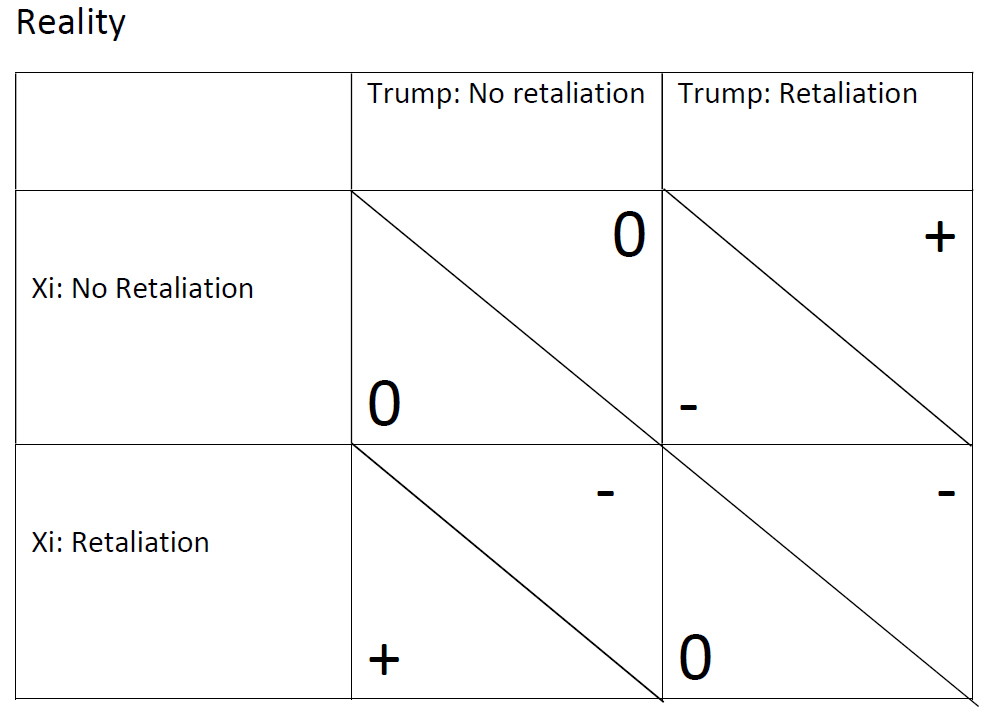 But Trump/Kudlow think it's: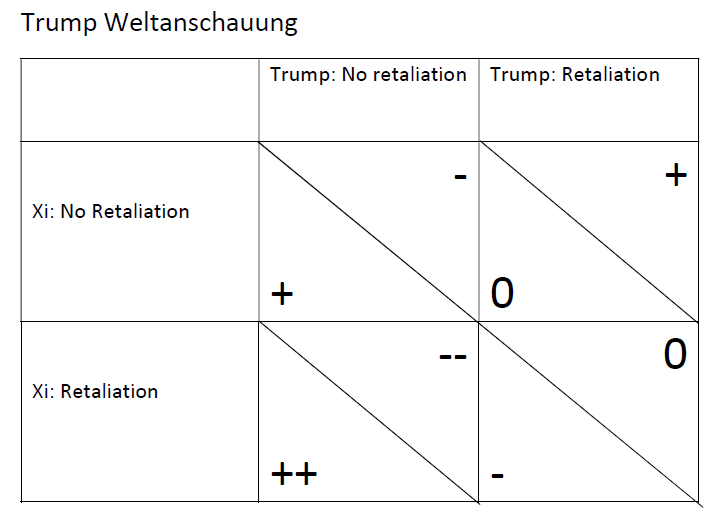 Then Trump will (mistakenly) believe that Xi will back down, and will therefore see that he can't lose by adding on more tariffs. Xi knows his own payoff matrix, and opts to retaliate because he can't lose.
If Trump knew Xi's payoff matrix, he would not retaliate. But if we know anything, we know that Trump knows little of the world.
That's why I don't expect a backdown…