I've noticed a tendency for some commentators to believe the Chinese economy is about to topple. One such instance is Gordon Chang writing in the National Interest:
Take the year 2016 as an example. The NBS reported that China's gross domestic product grew 6.7 percent that year. In 2017, however, the World Bank issued a bar chart showing that China's GDP increased only 1.1 percent
One has to wonder why in 2019 Chang is citing an unspecified 2017 World Bank report regarding 2016 performance. Well, time to — gasp — look at the data.
Figure 1 shows the official series, as well as the World Bank estimate, and the IMF's forecast.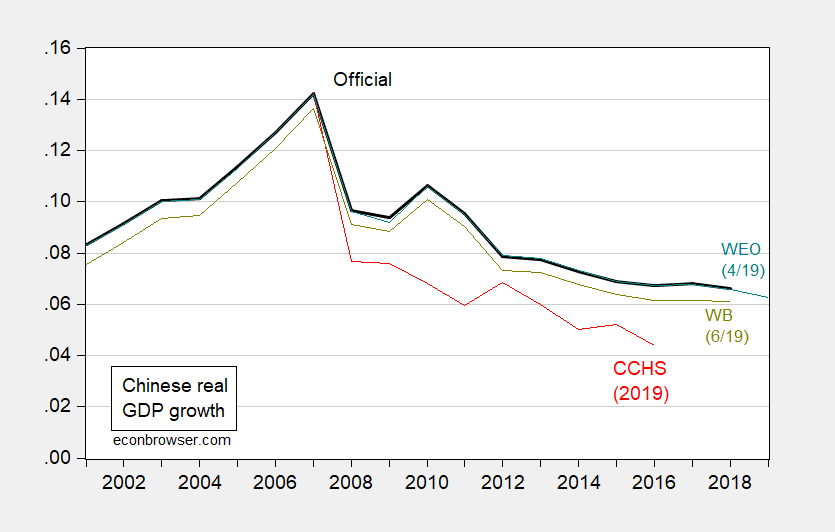 Figure 1: Annual growth rates, from Chinese NBS (black), World Bank (chartreuse), IMF World Economic Outlook (teal), and Chen, Chen, Hsieh and Song (red). Source, NBS via FRED, World Bank WDI (June 2019), IMF WEO (April 2019), and CCHS (2019).
In A forensic examination of China's national accounts, Wei Chen, Xilu Chen, Chang-Tai Hsieh, and Zheng (Michael) Song produce estimates of actual GDP growth looking at detailed sectoral data. Their estimated growth is shown in their Figure 17 (and included in Figure 1 above, by eyeball estimates).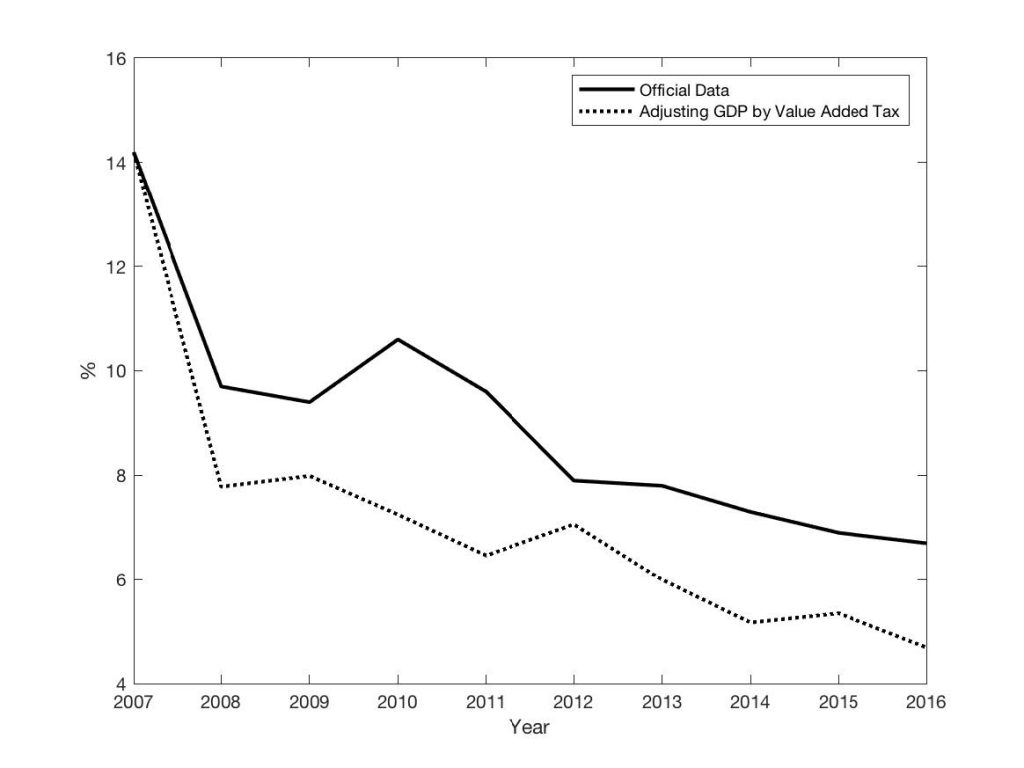 Source: Figure 17, from CCHS (2019).
North of 4% is substantially higher than 1.1%… just sayin'.
A clear-eyed view of Chinese vulnerabilities and strengths is requisite for crafting a successful policy of dealing with the Chinese. Neither doom-mongering nor over-stressing the strengths of the Chinese economy will serve us well.
As for recent data, Fernald, Hsu and Spiegel, "Is China Fudging Its GDP Figures" (2019) conclude for up to 2018:
Using principal components, we derive activity indices from a wide range of indicators (including GDP) and examine their fit with externally-reported Chinese and Hong Kong imports. In terms of measuring cyclical fluctuations, the quality of Chinese statistics have broadly become more reliable, though the evidence is more mixed for GDP.
This is shown in their Figure 1: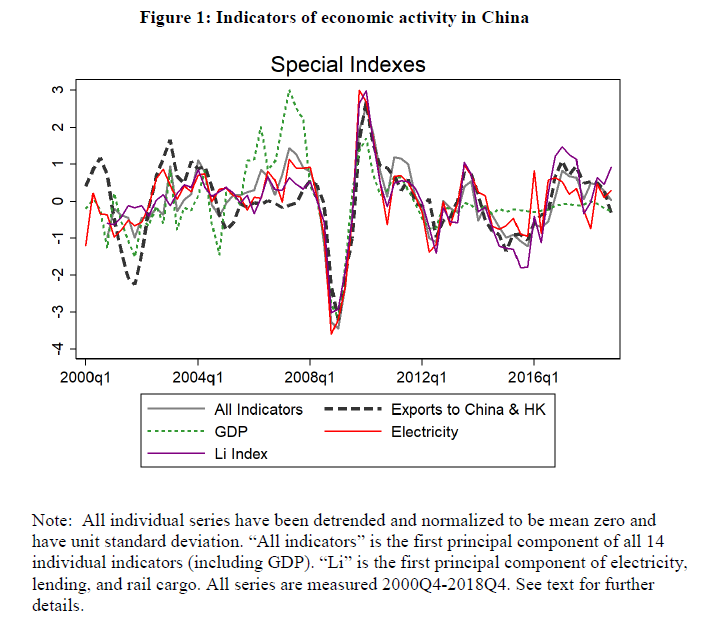 Source: Fernald, Hsu and Spiegel,  (2019).