Today we are fortunate to present a guest post  by Carola Binder at the Department of Economics at Haverford College. Twitter: @cconces
---
Over the past few decades, central banks around the world have been granted greater independence. Central bank independence (CBI) reforms aim to shield monetary policymakers from political influence and reduce inflationary bias. But as Walsh (2005) notes, "legal measures of Central Bank independence may not reflect the relationship between the Central Bank and the government that actually exists in practice." Forder (1996) describes how a central bank may be "independent by statute, and it is nevertheless accepted— on all sides— that the government will have its wishes implemented."
Even without clear acceptance that the central bank will accommodate the government's wishes, political pressure on the central bank may still affect monetary policy outcomes and credibility. A year ago, for example, Politico noted that "Now that the president has openly criticized the Fed, every action it takes might be viewed through the lens of a reaction to him."
In a recent paper, I use a narrative approach to study political pressure on 118 central banks around the world. I search country reports from the Economist Intelligence Unit (EIU) and Business Monitor International (BMI) for discussions of political pressure on or government interference with the central bank. The reports are designed to give equal attention to each economy and to report at consistent frequency on monetary policy-related developments, allowing for comparability across many countries and over time. For each central bank in each quarter, I code whether: there is no mention of government pressure on the bank, there is report of pressure but the central bank is resisting it, or the bank is reportedly succumbing to pressure. I also record details about the nature of the pressure (e.g. whether the pressure is to ease or to tighten policy).
I believe that the new dataset, which is publicly available, will be useful for a wide range of applications in monetary policy and politics. In my paper I focus on establishing several key results about the prevalence and persistence of political pressure, and its relationship to legal CBI and to inflation dynamics.
Pressure is widespread, as 39% of the central banks in my sample face at least one report of pressure since 2010. In an average quarter, there are reports of political pressure on over 5% of the central banks. In over 90% of cases, the political pressure is for easier monetary policy. As Figure 1 shows, reports of political pressure were most frequent (14%) in the most recent quarter (2019Q1). Figure 2 shows a breakdown of the number of central banks categorized as resisting or succumbing to pressure over time.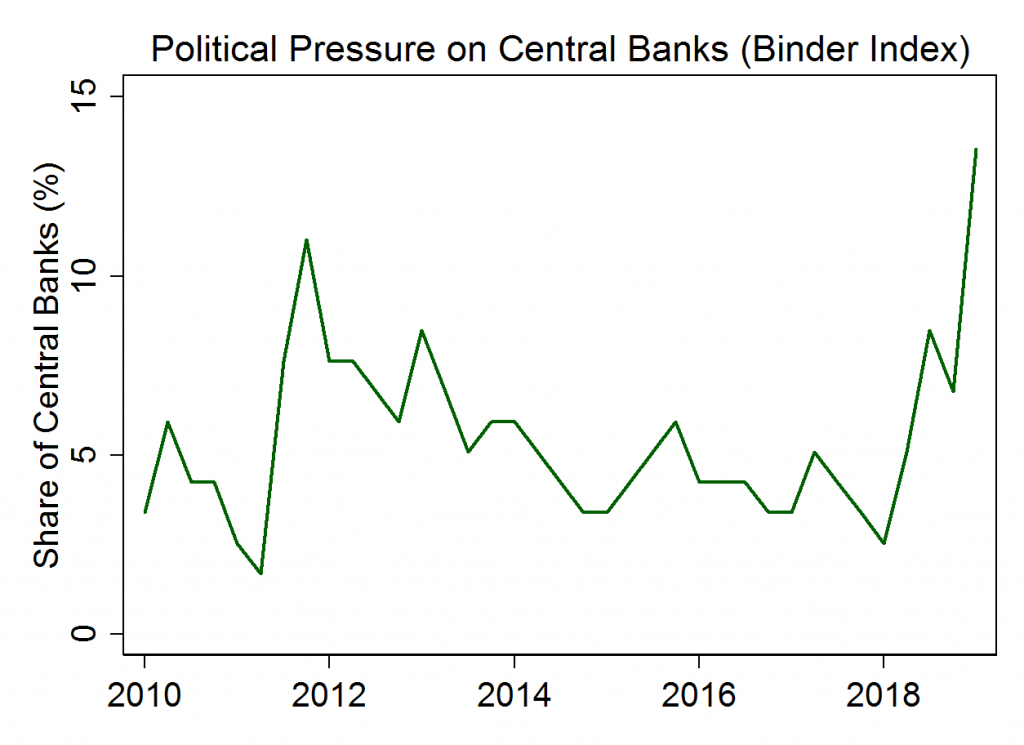 Figure 1: Share of central banks facing reported political pressure over time. Source: Binder (2019).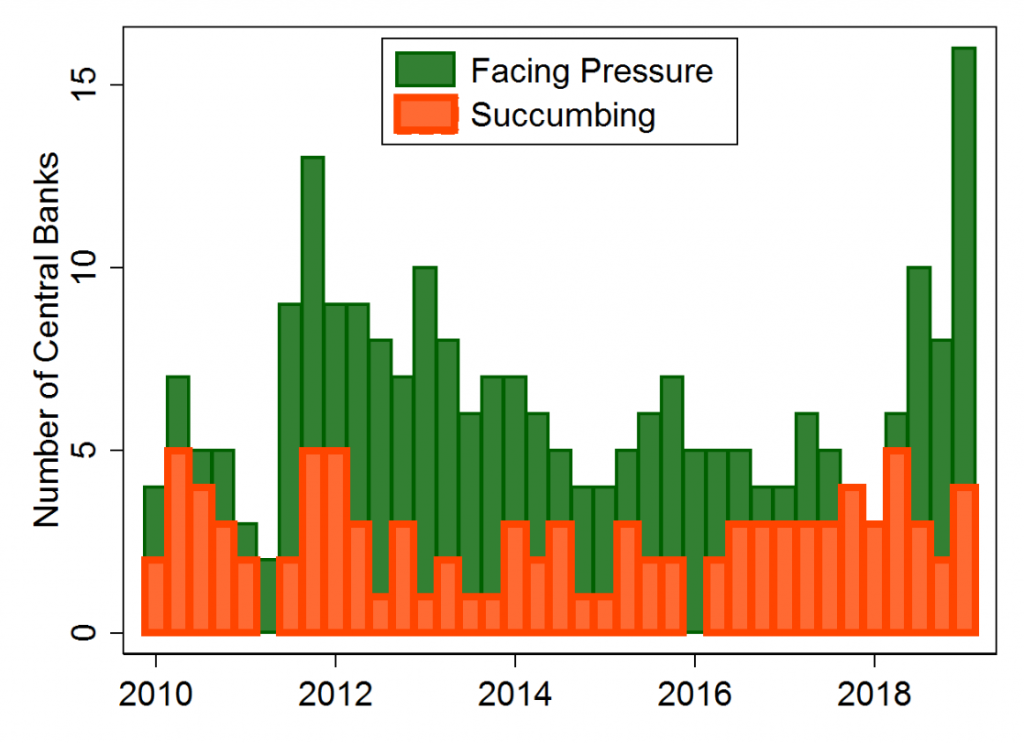 Figure 2: Number of central banks facing and resisting or succumbing to political pressure over time. Source: Binder (2019).
Overall, the political pressure measures are uncorrelated with legal indices of central bank independence. That is, statutory independence does not seem to protect central banks from government interference. However, in lower-income countries, legal CBI is associated with slightly less frequent political pressure.
Importantly, political pressure rather than legal CBI is associated with higher inflation in cross-sectional and panel analysis. Political pressure is also associated with higher inflation persistence, suggesting lower monetary policy credibility, weaker anchoring of inflation expectations, and higher output costs of disinflation.
Given these results, it is important to understand the political institutions and characteristics that might lead to or reduce political pressure on the central bank. I find that democracies and countries with stronger electoral competition or more checks and balances have less frequent reports of pressure. Executives from left-leaning and especially nationalist parties are more likely to pressure the central bank. In the paper, I also collect new data on International Monetary Fund recommendations to show that global governance institutions may help moderate government pressure on central banks.
Recent commentaries suggest that public support for independent central banks is eroding following the financial crisis and rise of populist movements. While anecdotal evidence abounds, I hope that this data will be useful for researching and monitoring such development.
---
This post written by Carola Binder.