Torsten Sløk at Deutsche Bank had an interesting commentary [not online] this morning, noting the disjuncture between the different estimates of estimated term premia from affine (no arbitrage) models of the term structure emanating from the NY and SF Feds. I adjust the term spread by the term premium from SF and show the implied probability of recession, alongside that from the conventional 10yr-3mo.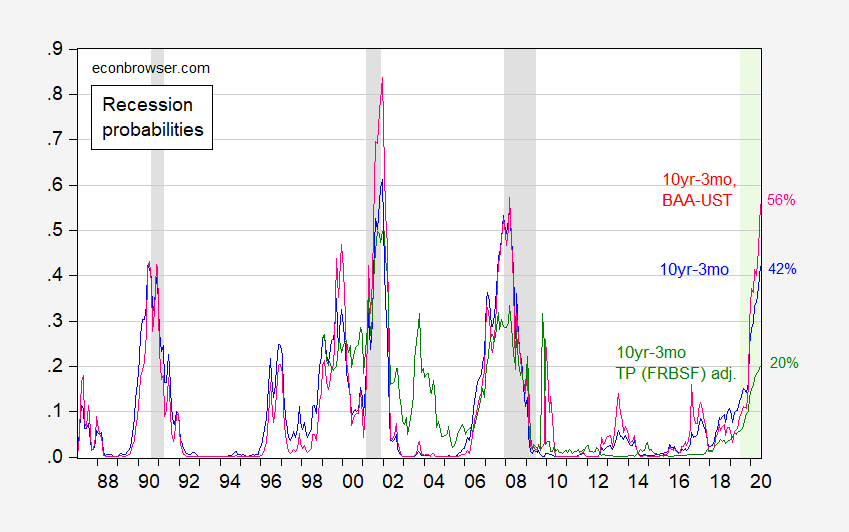 Figure 1: Implied recession probability from probit regression on 10yr-3mo term spread (blue), and same augmented with BAA-UST spread (red), both estimated over 1986M01-2019M06, and 10yr-3mo term premium adjusted spread (green), estimated over 1998M01-2019M06. 3 month Treasury is secondary market yield. NBER defined recession dates shaded gray. Source: Federal Reserve via FRED, SF Fed, NBER, and author's calculations.
Note that while the estimated probability of recession is lower for the term premium adjusted model (20%), in the last recession, a 30% probability was recorded. On the other hand, a 30% probability was indicated in 2003 without any recession occurring (so a "false positive" using a 30% threshold). If you are wondering what the NY Fed term premium-adjusted term spread, it indicates a single digit probability of a recession, and completely misses the previous two recessions.
On the other hand, the conventional 10yr-3mo and 10yr-3mo augmented with credit spread (blue, red, respectively) indicate much higher probabilities. However, the 10yr-3mo does not suggest a recession using the threshold exceeded last episode, while the 10yr-3mo credit spread augmented does…
Here is the graph from Torsten Slok which spurred this post: