That's my new entry in the Oxford Research Encyclopedia of Economics and Finance.
The idea that prices and exchange rates adjust so as to equalize the common-currency price of identical bundles of goods—purchasing power parity (PPP)—is a topic of central importance in international finance. If PPP holds continuously, then nominal exchange rate changes do not influence trade flows. If PPP does not hold in the short run, but does in the long run, then monetary factors can affect the real exchange rate only temporarily. Substantial evidence has accumulated—with the advent of new statistical tests, alternative data sets, and longer spans of data—that purchasing power parity does not typically hold in the short run. One reason why PPP doesn't hold in the short run might be due to sticky prices, in combination with other factors, such as trade barriers. The evidence is mixed for the longer run. Variations in the real exchange rate in the longer run can also be driven by shocks to demand, arising from changes in government spending, the terms of trade, as well as wealth and debt stocks. At time horizon of decades, trend movements in the real exchange rate—that is, systematically trending deviations in PPP—could be due to the presence of nontraded goods, combined with real factors such as differentials in productivity growth. The well-known positive association between the price level and income levels—also known as the "Penn Effect"—is consistent with this channel. Whether PPP holds then depends on the time period, the time horizon, and the currencies examined.
To illustrate the points made in the paper, if CPI bundles ascribed equal weights to individual goods, and the law of one price held, then the real value index for the US dollar over time would look like a flat line. It doesn't.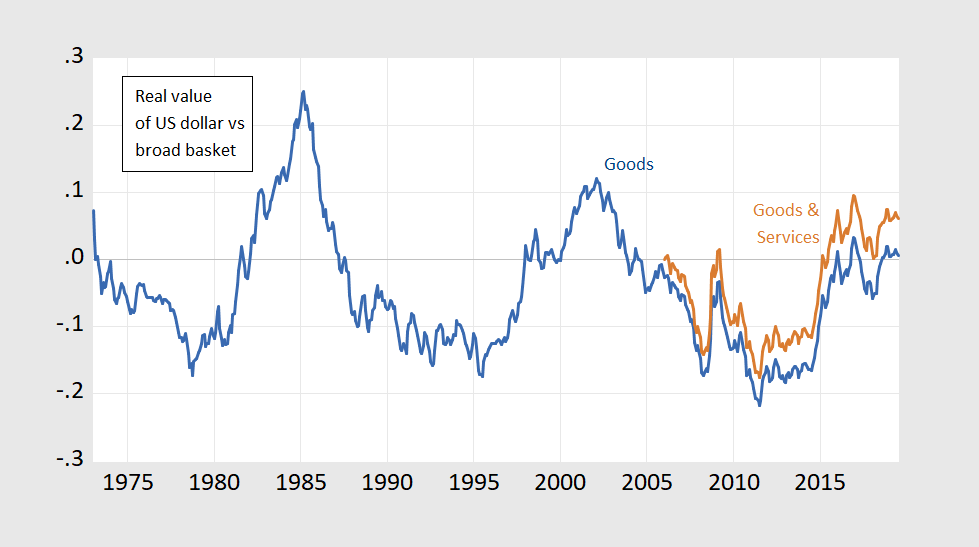 Figure 1: Log value of US dollar, against a broad basket of currencies of trading partners, for goods (blue), and for goods and services (brown). Up denotes appreciation. Source: Federal Reserve Board via FRED, and author's calculations.
Hence, purchasing power parity (PPP) does not hold over time for a given country, instantaneously. It might over longer stretches of time (i.e., in the long run), but that is an empirical question (and would show up as mean reversion in Figure 1 series; trend reversion is not PPP literally taken — and even here we are evaluating relative PPP).
Why the exchange rate moves as it does is discussed in the article, as well as this 2012 survey. For a recent horse race a la Meese and Rogoff (1983), see Cheung et al (2019).
The point that price levels tend to rise as income rise, so (absolute) PPP doesn't hold across countries, is demonstrated by the fact that at any given instant, all the observations in Big Mac Parity don't show up on a horizontal line at "0".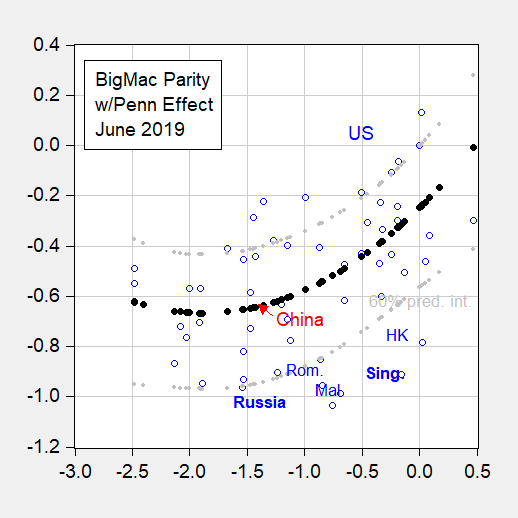 Figure 2: Log price level relative to US price level plotted against log relative per capita income, both in 2019. Penn Effect line estimated using quantile regression (black) and 60% prediction interval (gray). Source: Economist, IMF World Economic Outlook April 2019 database, author's calculations.
Figure 2 is relevant when you hear talk about Chinese currency undervaluation. We should hear as much (or more) about Russia as we do about China (but given Mr. Trump's allegiances, I don't think we will).
More on the "Penn effect" in this post.
More from the Encyclopedia (free access for now):
Economics and Finance