No end to "the blip". From today's Des Moines Register:
Iowa farmer Lindsay Greiner no longer uses "dispute" to describe escalating trade tensions between the U.S. and China.

"I've tried to avoid calling this a war, but that's what it really is. It's not going to be resolved anytime soon," said Greiner, who raises corn, soybeans and pigs near Keota.

China said this month it would no longer buy American farm goods, deepening concern that a new trade deal could take months, if not years, to resolve.

It was unwelcome news for Iowa and U.S. farmers, already facing spring flooding that kept many from planting crops, adding to struggles with low prices and growing supplies of corn, soybeans, pork and milk.
Further Federal government subsidization of American farmers would require Congressional action; the previous and current $28 billion support was drawn from the Commodity Credit Corporation. CCC has authority to borrow up to $30 billion.
Strange side note: 35 years ago, I was researching special interests in driving agricultural price supports for grains, as a research assistant for … Peter K. Navarro. At the time, Republicans were seeking to cut government support for such programs, given the distortions they impose. Apparently such concerns are no longer represented in the Republican party.
Update, 8/13. Reader CoRev needs to know what the window is for an "event study". I'd say 20 min on either side of announcement is just about right in many cases. E.g., Trump wimps out on additional tariffs on China.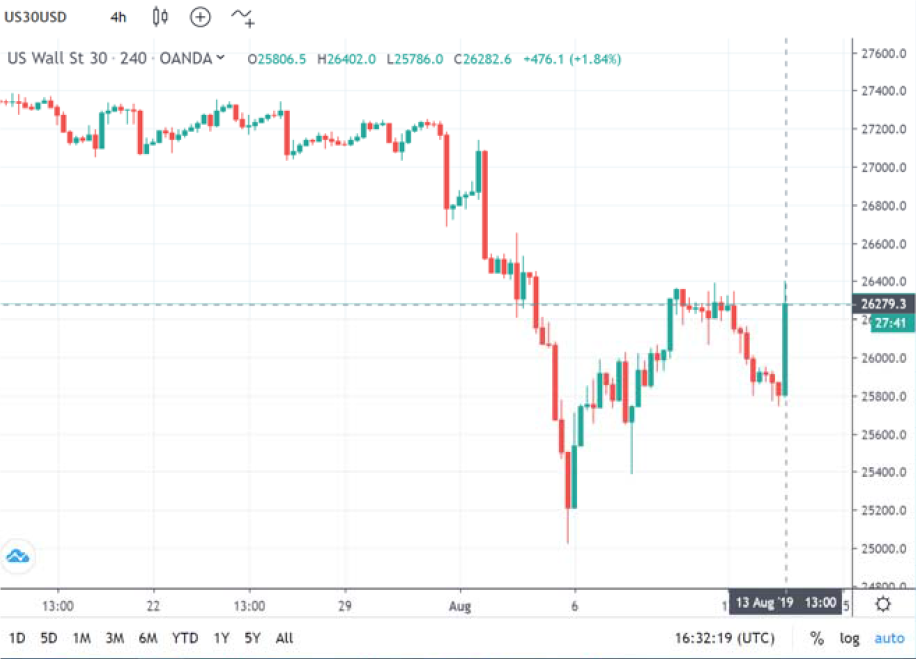 But, as I've shown for soybean futures, sometimes a day is ok, since ag news frequency isn't necessarily high.
Darn, CoRev, are you being intentionally dense?