So much misleading prose circulates these days:
"Manufacturing came back quickly after the recession as it has done in prior recessions, but then flattened out and declined during Obama's second term."
At least, I thought this was misleadingly written. At most, well…In any case, I thought it might be useful to look at data (the blue line is the one referred to above).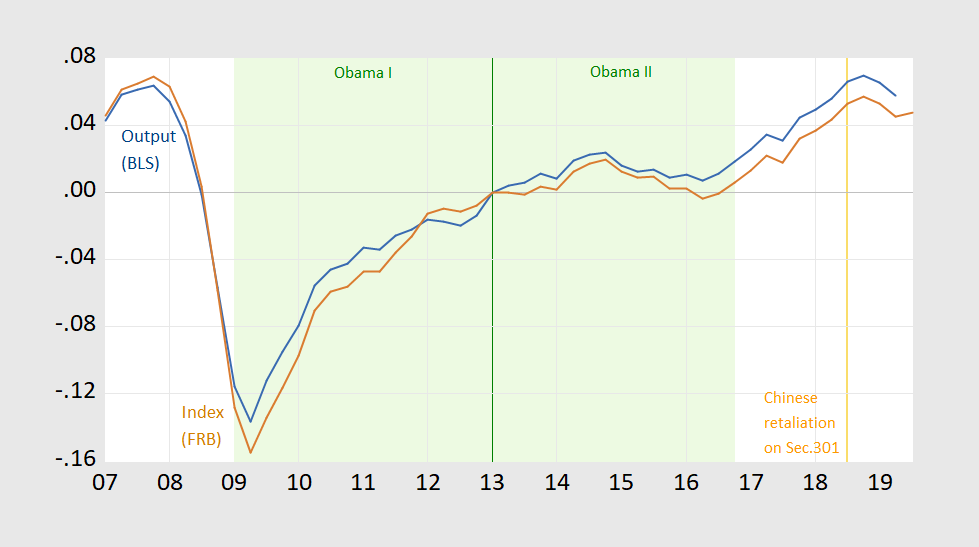 Figure 1: Real output in manufacturing from BLS (blue), and Federal Reserve Board manufacturing production index, quarterly average of monthly data (red), both in logs, 2013Q1=0. Light green denotes Obama administrations. Orange line denotes when China retaliates against US Section 301 measures. Source: BLS, Federal Reserve Board via FRED, and author's calculations.
In point of fact, by both measures, manufacturing output ends up higher in the last full quarter of the Obama administration than in the first quarter of the second Obama administration…
Of interest is the noted deceleration in manufacturing output after Chinese retaliation against our Section 301 measures is implemented.