From the Congressional Research Service: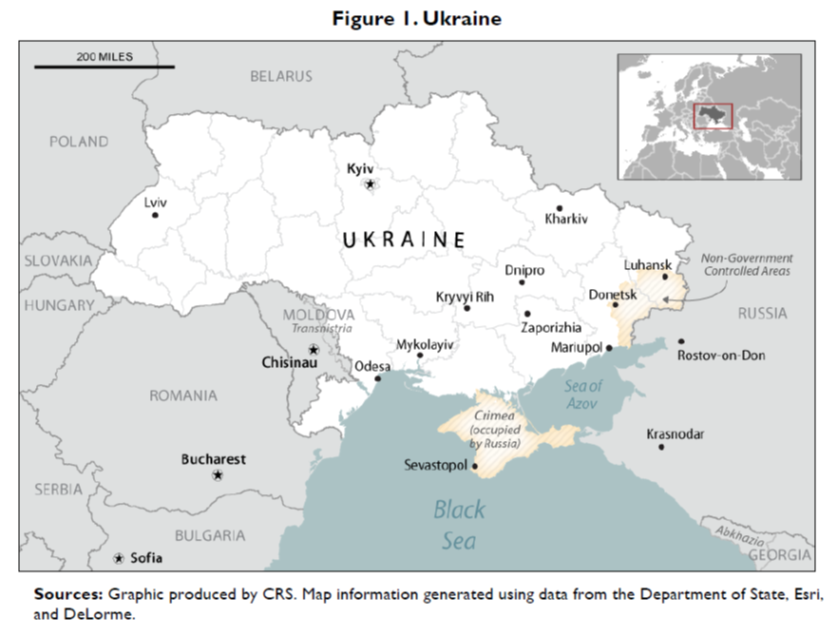 Source: Cory Welt, "Ukraine: Background, Conflict with Russia, and U.S. Policy," Congressional Research Service Report R45008 (September 2019).
Regarding the Donbass region:
The estimated number of Russian troops in eastern Ukraine has declined since peaking in 2015 at about 12,000.42 In February 2019, Ukraine's ambassador to the United Nations said that "over 2,100 Russian regular military, mostly in key command and control positions," were fighting in eastern Ukraine, with the total number of Russian-backed fighters about 35,000.

The conflict's intensity has declined since 2015, but fighting continues. In 2018, Special Representative Volker characterized the conflict as a "hot war."44 U.S. officials and others regularly call attention to the "humanitarian catastrophe" in eastern Ukraine.45 According to OHCHR, the conflict has led to around 10,000 combat deaths and more than 3,000 civilian fatalities.46
This count includes the 298 foreign nationals killed in the July 17, 2014, downing of Malaysian Airlines Flight 17, or MH17, a commercial aircraft en route from Amsterdam to Kuala Lumpur that was shot down in Ukrainian airspace. Intelligence sources indicate that separatist forces brought down the plane using a missile supplied by the Russian military.
A map depicting the disposition of forces is in this post. Regarding the shootdown of MH17:
The JIT – which includes officials from the Netherlands, Australia, Belgium, Malaysia and Ukraine – concluded in May 2018 that the missile system belonged to the 53rd Anti-Aircraft Missile brigade, based in the western Russian city of Kursk. It produced evidence that it said proved how the missile system had reached eastern Ukraine.
An extensive analysis of the Russian hybrid war in Eastern Ukraine, based on leaked emails, is provided by the Royal United Services Institute (July 2019):
For Crimea:
Ukrainian officials say Russia has deployed more than 30,000 troops to the region, as well as S-400 surface-to-air missile systems and other advanced weaponry. The Office of the United Nations High Commissioner for Human Rights (OHCHR) has documented "multiple and grave" human rights violations in Crimea and said that minority Crimean Tatars, who are generally opposed to Russia's occupation, have been "particularly targeted."