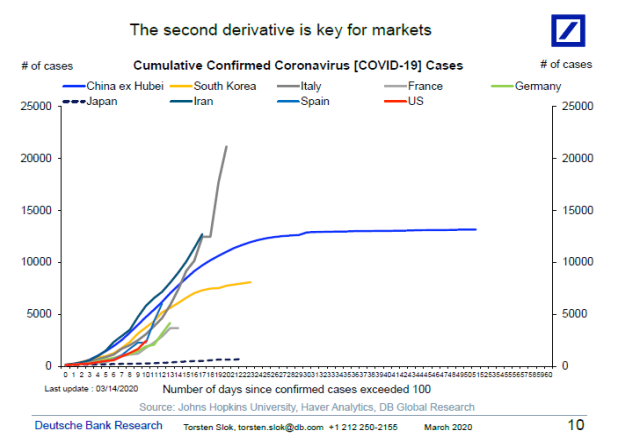 [Update – Figure added 3/14 1:30pm Central. Source: Torsten Slok, DB.]
From The Hill today:
One model from the Centers for Disease Control and Prevention (CDC) suggested that between 160 million and 210 million Americans could contract the disease over as long as a year. Based on mortality data and current hospital capacity, the number of deaths under the CDC's scenarios ranged from 200,000 to as many as 1.7 million.

It found as many as 21 million people might need hospitalization, a daunting figure in a nation with just about 925,000 hospital beds.
In contrast, flu-related deaths this season are estimated to range between 20,000-50,000.
The article continues:
Another model built by experts at Resolve to Save Lives, a global health nonprofit, and the Council on Foreign Relations found the number of potential deaths could range from as few as 163,500, if the virus is no more deadly than seasonal influenza, to more than 1.6 million if the virus carries a mortality rate of just 1 percent.
For the CFR study, see here. See also Sheri Fink's NYT article today.