If you look at the CDC statistics without looking at the footnotes, you could be forgiven for mistakenly concluding the US was nearing zero Covid-19 fatalities.
Covid-19 fatalities could be counted by referring to death certificates labeling cause as such. However, this method is subject to error due to misreporting. An alternative approach is to calculate excess fatalities — the actual count minus "expected" (CDC sets negative excess deaths to zero, see technical notes to the data. This approach is particularly useful when administrative data are sketchy, e.g., Puerto Rico in the wake of Hurricane Maria. The catch is estimating the expected number of deaths for usual times.
Compounding this problem of inference are long data submission to the CDC. Particularly recent figures are likely to be very undercounted. This suggests looking at alternative sources for insight into trends.
In Figure 1, I show CDC data on Covid-19 fatalities, excess fatalities (all causes), and Covid-19 fatalities as tabulated by the Covid Tracking Project/Atlantic.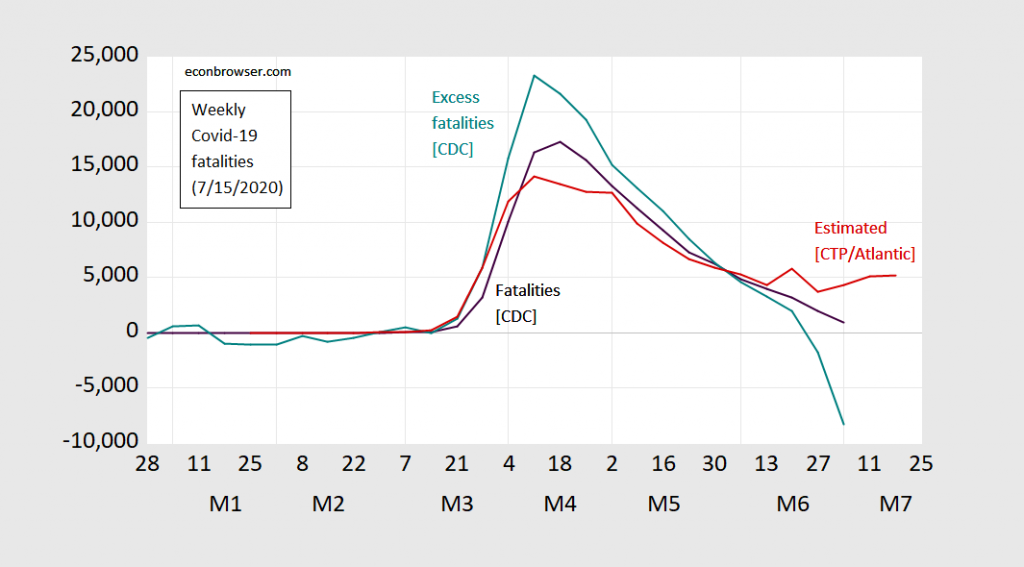 Figure 1: Weekly fatalities due to Covid-19 as reported to CDC (black), excess fatalities calculated as actual minus expected (teal), and fatalities as tabulated by The Covid Tracking Project/Atlantic (red). Source: CDC, Covid Tracking Project/Atlantic accessed 7/16/2020, author's calculations. [Updated using 7/18 data]
The CDC Covid-19 fatalities series is trending toward zero, but this could be partly due to lagging reporting. The excess fatalities series could also be distorted by lagging reporting. The fact that estimated excess deaths have gone far into negative territory suggests that there have been offsetting negative (on fatalities) forces — perhaps decrease in traffic and other accidents due to lockdowns.
The alternative unofficial data indicates that Covid-19 fatalities are turning upward as of the week ending 7/11, contradicting both the official tally and excess fatalities calculations.
Given the White House has transferred Covid-19 related hospital data collection to HHS — and away from CDC — we might have to rely more and more on unofficial data, and less and less on the Ministry of Truth.