In addition to previous open letters, here is one released today, with over 750 signatories:
We, the undersigned economists, strongly urge voters not to re-elect Donald Trump on the following grounds:

His chaotic and ineffective approach to negotiation has damaged relations with trade partners, interrupted supply chains, degraded international norms, and harmed American farmers — all without achieving his stated goal of reducing the trade deficit. Even his landmark trade deal, the USMCA, is not projected to have a meaningful impact on either GDP or the trade deficit.

His managerial incompetence has damaged the credibility and effectiveness of the public sector. Agencies cycle through acting heads, disgruntled former staffers frequently appear in the media with dire warnings, and family members are put in charge of critical pandemic response initiatives.

He claimed to have the unique ability to generate growth (in real GDP) of between 4% and 6%, but never surpassed 2.9% in his first three years in office. Furthermore, analysts at Goldman Sachs and Moody's Analytics have projected that Joe Biden's economic plans, if implemented, would actually generate faster growth in both employment and real GDP.

He failed to achieve his campaign's core economic promises: manufacturing remained a small share of employment, and both the fiscal and trade deficits increased. As economists explained in 2016, most of his promises either didn't make sense or weren't achievable using his proposed policies. This remains true in 2020.

His administration's public health response to COVID-19 was described by medical scientists as having turned "…a crisis into a tragedy" and as having underperformed relative to other democracies by "orders of magnitude."

He has consistently undermined the independence and credibility of our major health agencies, including the Food and Drug Administration, the Centers for Disease Control, and the National Institutes of Health, eroding public trust in their approvals and recommendations at exactly the time when we most desperately need it.

He has dramatically overemphasized the extent to which economic growth and public health are in conflict during a pandemic. In fact, many countries that have been more effective in their viral containment efforts have also performed better economically.

His personal behavior during the COVID-19 outbreak endangered public health, the economic recovery, and the safe re-opening of schools. He undermined mask use and social distancing, held indoor rallies, encouraged the use of unproven and potentially dangerous medical substances, downplayed the severity of the pandemic, and hosted a superspreader event that incapacitated the White House and forced military leadership into quarantine.

He regularly spreads dangerous misinformation, even during times of crisis, and has been the single largest source of misinformation during the pandemic.

He has made the country less attractive to skilled and hard-working immigrants by assaulting religious freedom and by insinuating that the children of non-white immigrants are not truly American.

He has made the country a less appealing place to do business by creating an atmosphere of perpetual chaos and uncertainty, and by using the levers of government to punish individuals and businesses that were insufficiently reverential.

He has fostered a culture of unabashed corruption by pressuring foreign countries to undermine his political opponents, using the resolute desk to promote a political supporter's bean products, attempting to divert intergovernmental meetings to his commercial properties, using public resources to conduct campaign events, and allowing White House staff to openly flout the Hatch Act.

He has refused to release his tax returns — unlike his political opponents in both 2016 and 2020 — making it difficult to determine the extent to which his financial interests conflict with the country's. Recent reporting, which has secured his returns for two decades, suggests that his businesses have consistently claimed large losses and that he appears to have many unresolved conflicts of interest.

He spreads conspiracy theories that undermine long-term trust in democratic institutions for seemingly no reason other than to influence media coverage in a single news cycle.

He has a poorly-informed, zero-sum view of economics that engenders needless viciousness and cruelty.

In just one term in office, Donald Trump has rendered the United States unrecognizable, and has faced no consequences for doing so. He has carried out a sustained assault on democratic institutions, put his family members in charge of critical government functions during a pandemic, called for his political opponents to be thrown in prison, normalized corruption, and weakened the economic recovery with selfish and reckless behavior. For these reasons, we strongly recommend that the electorate do what no one else can: reclaim your democracy by voting to remove Donald Trump from office.
This is in addition to this open letter for Biden-Harris, discussed in this post:
More than 200 economists have signed a letter of support for Joe Biden and Kamala Harris. Signers include Nobel Prize winner Joseph Stiglitz, Laura Tyson, William Spriggs, Claudia Goldin, Robert Reich, Robert Gordon, Ebonya Washington, Jeff Sachs, and Emmanuel Saez. The letter contends that the U.S. is facing a series of simultaneous major crises — health, economic, and political — and that only strong national leadership from the Biden-Harris ticket supported by a grassroots democratic movement can address these crises and create an economy that works for all Americans.
From the letter:
The Biden-Harris program includes:
Raising the minimum wage to $15 an hour and supporting worker rights 

Guaranteeing health care for every American by offering a public option and extending Medicare to those 60 or over.
Investing in roads, bridges, water systems, airports, and rail systems, creating tens of thousands of well -paying jobs and assuring that federal procurement extends to minority owned businesses.
Advancing racial equity as part of national economic recovery.Rolling back the Trump tax cut for big corporations, and making the wealthy pay their fair share of taxes.
Guaranteeing universal pre-school education and affordable quality day care, and supporting home care for aging parents.
Providing relief from student debt and expanding tuition-free public college for working and middle class families.
Increasing financing for black-owned small business and black home ownership.
Establishing a green energy programthat reduces carbon emissions, creates jobs, and makes the US a global leader in renewable energy.
The full letter is here. Release of this letter preceded the letter in support of Joe Biden signed by 13 Nobel Laureates in Economics (post here).
I (still) have not identified a corresponding letter in support of the Trump-Pence economic agenda.
It's not surprising that economists have supported the Biden plan (while few seem to have signed onto the Trump agenda). Consider the analyses from several Wall Street research groups: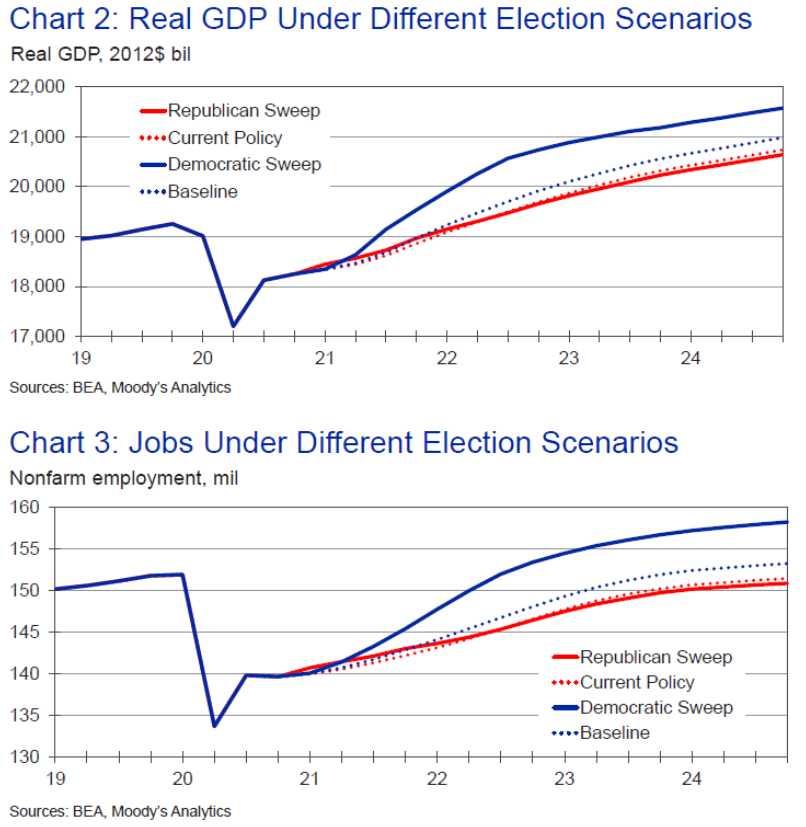 Source: Moody's Analytics, September 23rd.
And here is Oxford Analytics's assessment.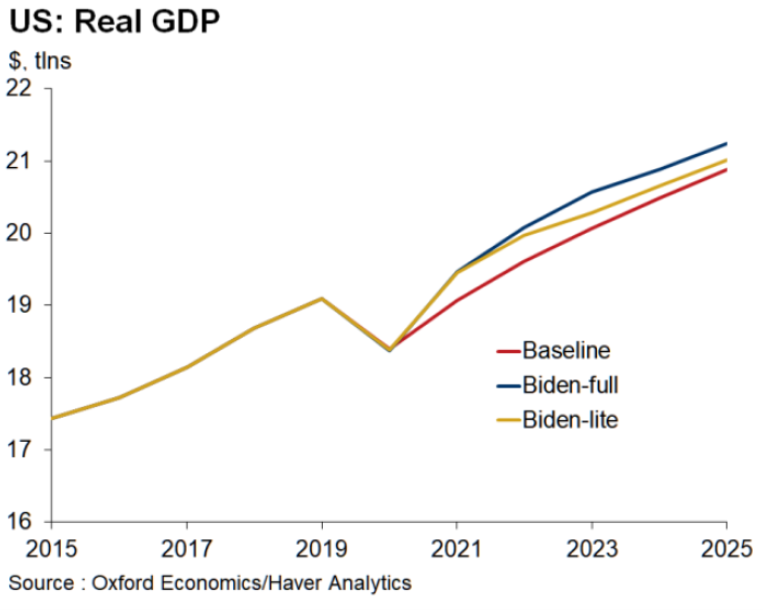 Source: Oxford Economics, September 26th.
and Goldman-Sachs's estimates of impact on output gap.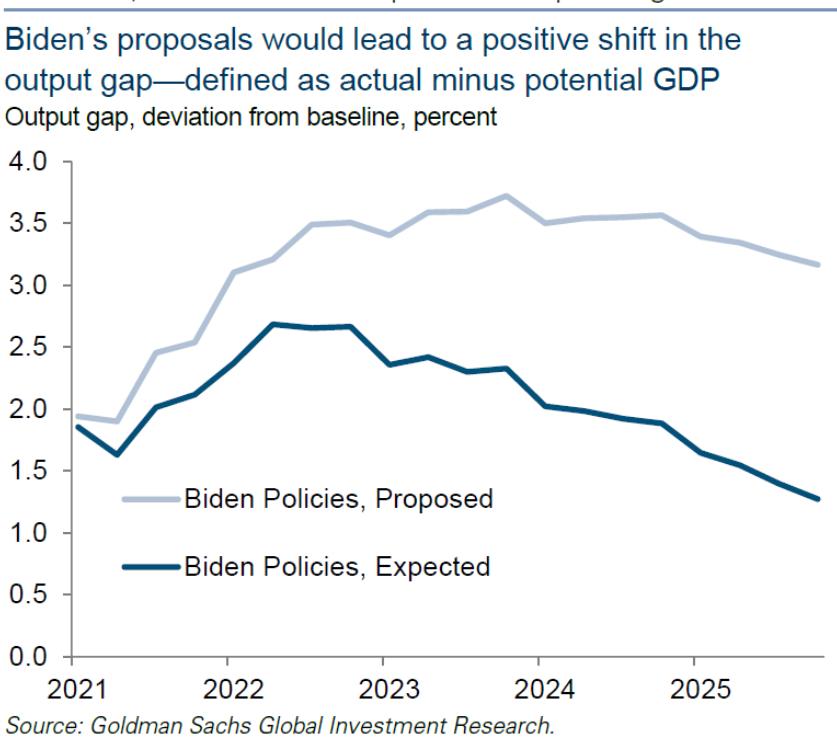 Source: Goldman-Sachs, Top of Mind, October 1st.
In general, the Biden plan would result in higher output and employment than under a second Trump administration (to the extent one can discern his plans).