From FT today, "Economists predict at least two US interest rate rises by end of 2023":
Elevated inflation will compel the Federal Reserve to raise US interest rates at least twice by the end of 2023, according to a new poll of leading academic economists for the Financial Times. The inaugural survey conducted by the FT and the Initiative on Global Markets at the University of Chicago's Booth School of Business points to a potentially more hawkish path for monetary policy than indicated by the Fed's chair, Jay Powell.

…

The FT-IGM US Macroeconomists Survey polled 52 academic economists on the likelihood that the Fed's main policy rate would indeed be higher by 0.50 percentage points by the end of 2023, as the dot plot indicated. A majority said the likelihood of a move of that size or greater was above 75 per cent, and a large minority put it as high as 90 per cent.
The ungated survey can be found here. Some points that were of particular interest to me:
GDP q4/q4 growth in 2021
PCE 12 month inflation in 2021
Long term inflation expectations
These are addressed in the following graphs from the  survey results.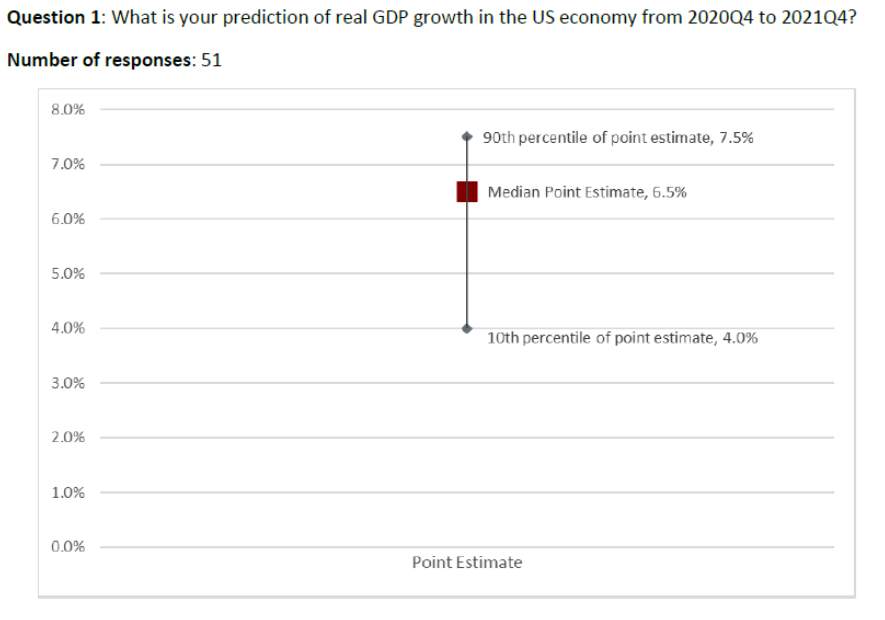 Source: FT-IGM survey, June 2021.
Greater detail on what the individual survey respondents thought about growth, and upside/downside risks, is shown in this graph from the FT article.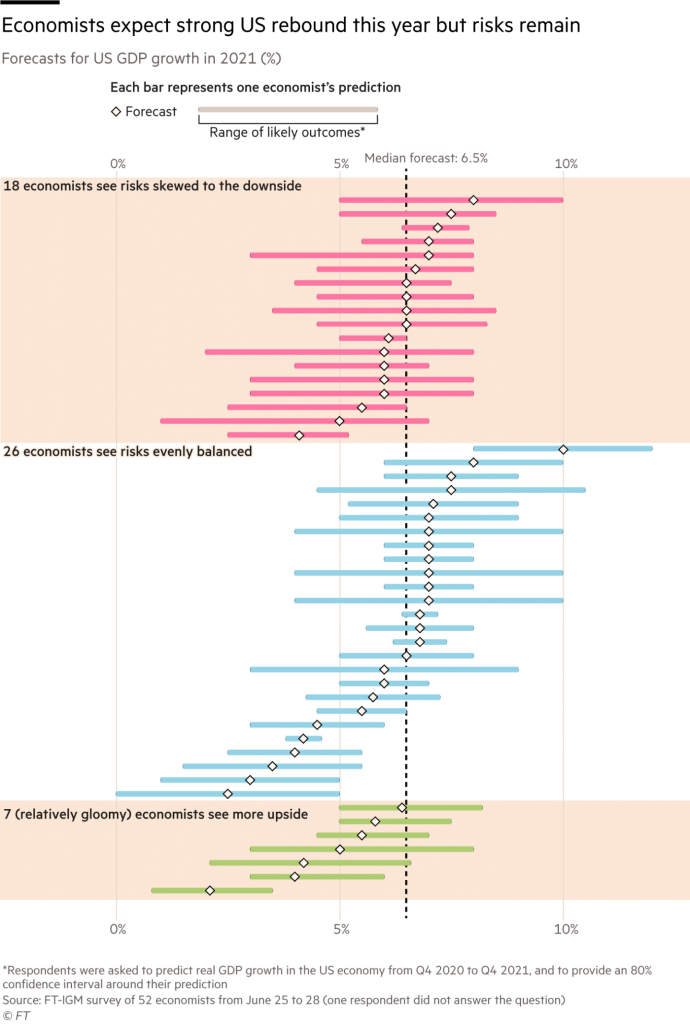 Source: FT, June 30, 2021.
My forecast is pretty close to median, and though my forecast is skewed to the downside, I'm not anywhere as pessimistic (at the 90% bound) as some respondents. It's interesting that there is such a wide dispersion for some respondents – we know GDP growth was about 1.5% in Q1 (all growth rates not annualized), nowcasts are for about 2% in Q2, so we have about half of the Q4/Q4 growth already pretty much known. So some forecasters must be thinking about big possible negatives (like delta variant, rest-of-world developments).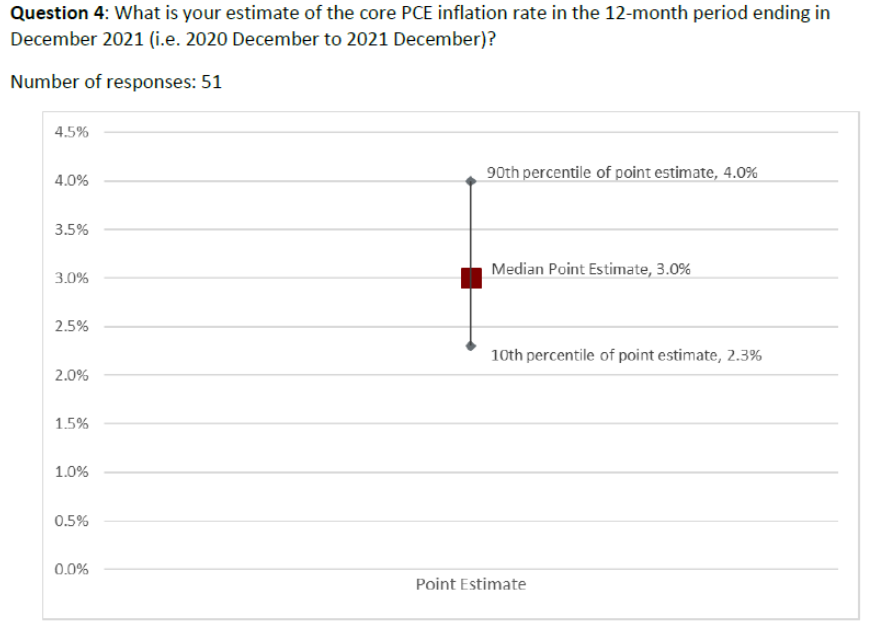 Source: FT-IGM survey, June 2021.
Median estimate for core PCE inflation is 3%, a bit below my estimate at 3.3%.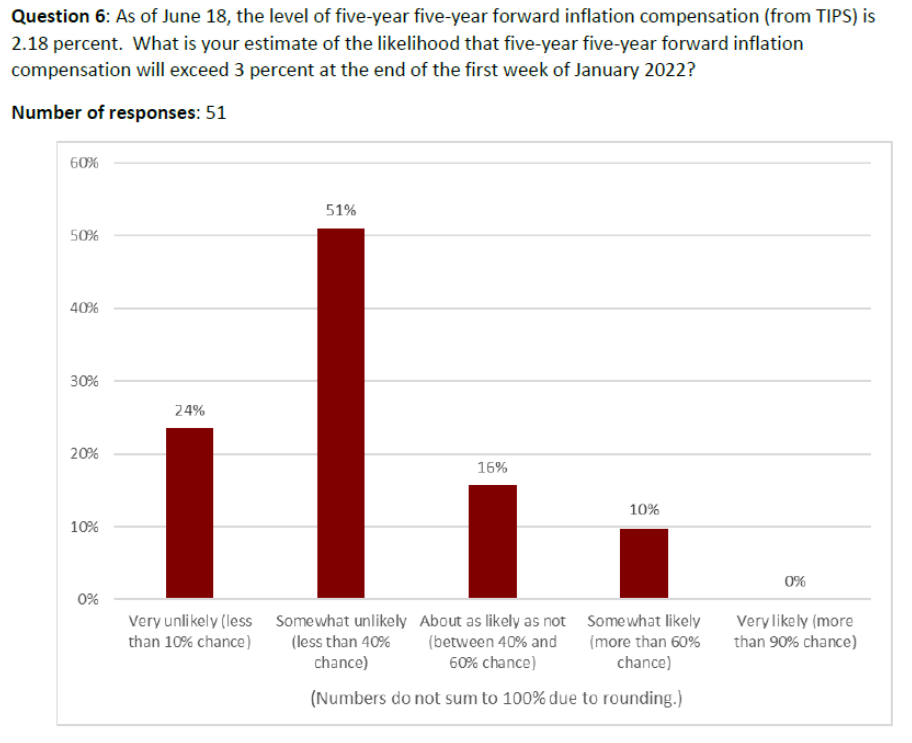 Source: FT-IGM survey, June 2021.
Thinking about the possibility of a sustained increase in inflation, a critical factor is long term expected inflation (see the framework explained in graphical terms). Here, respondents seem to think inflation expectations are well anchored.
Update, 1pm Pacific:
Here's implied GDP levels using SPF, FT-IGM, Admin/Troika forecasts for growth.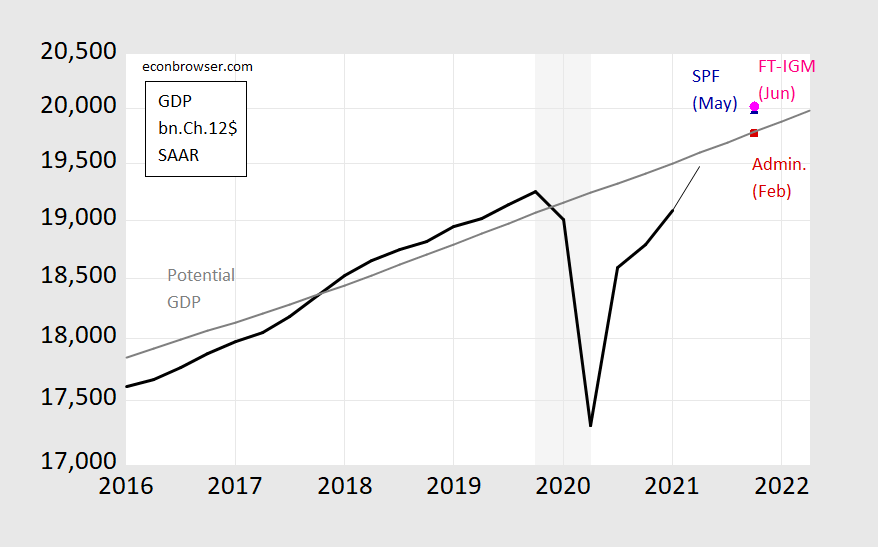 Figure 1: GDP as reported (black), Atlanta Fed nowcast (thin black line to 2021Q2), Administration (red square), Survey of Professional Forecasters (blue triangle), FT-IGM (pink circle), and potential GDP as estimated by CBO (gray line). NBER recession dates assuming trough at 2020Q2. Source: BEA, Atlanta Fed as of 6/25, OMB FY'22 Budget, Philadelphia Fed SPF (May), and FT-IGM survey (June), CBO Economic Outlook (February), and author's calculations. 
The implied year-end output gap is about 1% using either the SPF or FT-IGM survey.