Even before Covid-19 struck, Wisconsin exports were declining despite a sideways-trending dollar…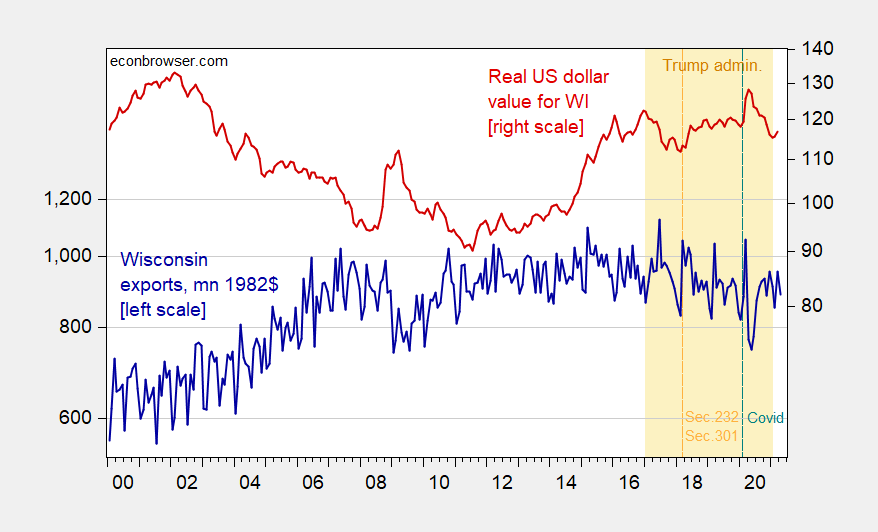 Figure 1: Real "exports" of goods originating in Wisconsin, deflated by US PPI-all commodities in millions 1982$ (blue, left log scale), and real export-weighted value of US dollar for Wisconsin, 1988=100  (red, right low scale). Light orange shading denotes Trump administration, orange dashed line denotes March 2018 when Section 232 and Section 301 measures are announced. Green dashed line at February 2020. Source: Bureau of Census via FRED, Dallas Fed, and author's calculations.
While Wisconsin export growth stalled during the dollar appreciation of 2014-15, growth went negative in the wake of the announcement of Section 232 and Section 301 measures, even with a fairly steady dollar. That's suggestive of a failure of the Trump browbeating approach to trade policy – retaliation (and associated heightened economic policy uncertainty) did Wisconsin no favors in the export realm.
The following caveat is necessary when examining these data, as the series does not represent necessarily production in Wisconsin. From the data description:
The series DOES NOT represent the production origin of U.S. export merchandise. In some cases considerable manufactured exports are attributed to states that are known to have little manufacturing capACElity. One reason is that commodities produced by out-of-state suppliers can be shipped from in-state distribution centers. Another factor is shipments of manufactured commodities from in-state warehouses and other distribution centers that are arranged by exporters located out-of-state. In both cases, manufactured exports from the non-industrial state are magnified in the OM series.