Although there is something to be said for consistency. For instance, I see someone blogging (!):
Milestones
I talk a lot about inflation.

But today was the first time in my life I actually used a dollar bill as toilet paper.
And then 12 years ago, he wrote:
Hyperinflation tipping point

Following up yesterday's post on inflation-defense investments, Paul Hsieh and Amit Ghate cite John Mauldin's weekly newsletter, which notes that the hyperinflation "tipping point" generally occurs when governments have to borrow 40% of what they are spending, which, coincidentally, is exactly where Barack Obama and his printmeister Ben Bernanke have the United States at the moment:

"There have been 28 episodes of hyperinflation of national economies in the 20th century, with 20 occurring after 1980. Peter Bernholz (Professor Emeritus of Economics in the Center for Economics and Business (WWZ) at the University of Basel, Switzerland) has spent his career examining the intertwined worlds of politics and economics with special attention given to money. In his most recent book, Monetary Regimes and Inflation: History, Economic and Political Relationships, Bernholz analyzes the 12 largest episodes of hyperinflations – all of which were caused by financing huge public budget deficits through money creation. His conclusion: the tipping point for hyperinflation occurs when the government's deficit exceed 40% of its expenditures.

"According to the current Office of Management and Budget (OMB) projections, US federal expenditures are projected to be $3.653 trillion in FY 2009 and $3.766 trillion in FY 2010, with unified deficits of $1.580 trillion and $1.502 trillion, respectively. These projections imply that the US will run deficits equal to 43.3% and 39.9% of expenditures in 2009 and 2010, respectively. To put it simply, roughly 40% of what our government is spending has to be borrowed.

But hey, what's the worst that could happen? Recent hyperinflations have only brought about little things like civil war and genocide. A small price to pay to give Wall Street, the autoworkers, and Realtors another well-deserved bailout!
Here is a depiction of the evolution of the CPI (normalized to a value of 1 in October 2009, when he wrote this last missive). I also show the purchasing power of a consumer dollar (as published by BLS), normalized to a value of 1 in that same month.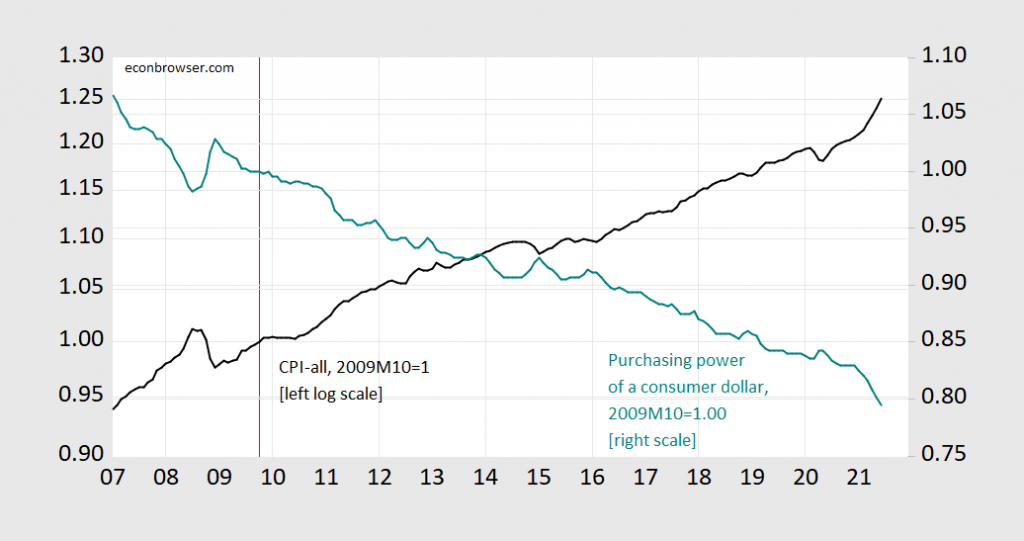 Figure 1: CPI-all urban normalized to value of 1 in October 2009 (black, left log base e scale), and Purchasing Power of a Consumer Dollar, normalized to value of 1 in October 2009 (teal, right scale). Red dashed line at October 2009. Source: BLS via FRED, author's calculations.
Hopefully, this graph is helpful. However, since Mr. Varones once asked of me (in a separate context):
Y U no look at right-to-work effect on other variables like employment growth or cost of living?
I note in another post other price indicators, including non-governmental (for the conspiracy-minded) indicate similar trends.
Interestingly, what Mr. Varones did earlier this month amounted throwing away 80 cents of the dollar bill he would've spent in October 2009. Well, it's  free country.
(Also, not sure Mr. Varones's comment from 7 years ago has aged well.)
There's not just an absence of evidence confirming climate models. We now have years of evidence that the predictions of Global Warmists were wrong: the hockey stick, the ice-free arctic, snowfall a thing of the past in England…