Angus, Atalay, Newton and Ubilava write "Editorial boards of leading economics journals show high institutional concentration and modest geographic diversity". There's no doubt diversity of all types is an issue of concern in the economics professions, and here's one more dimension.
Noting the US dominance in journals, the provide the following geographical summary of editorships: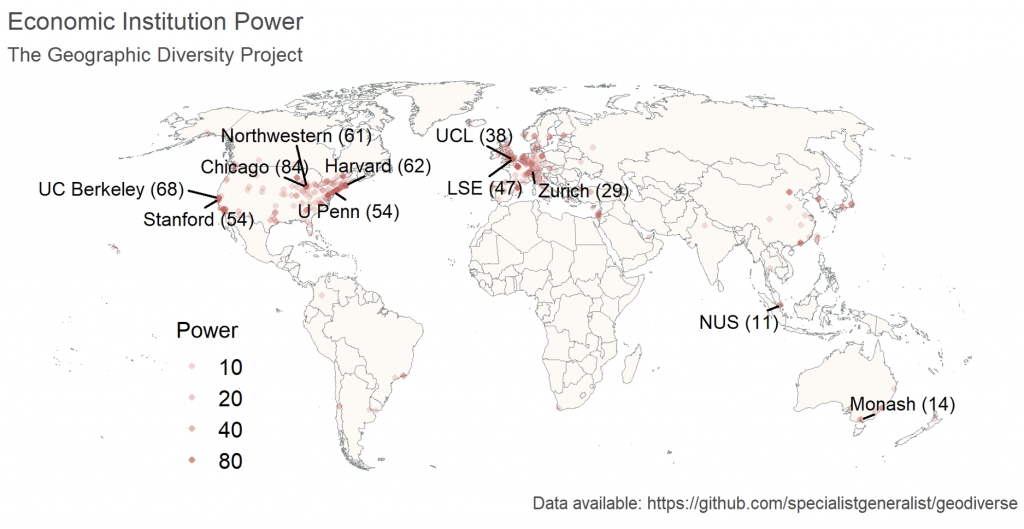 Source: Angus, et al. (2021).
Much more detail is provided in the underlying paper. I happen to be a coeditor of the Journal of International Money and Finance. That journal did not make it into the their list, but it did make it into Google Scholar's 2021 list of top 20 economics journals, by impact factors. The publisher (Elsevier) has recently updated JIMF's editorial page to include nifty flags (the numerical count is right for the US, even if for some reason, I don't get one).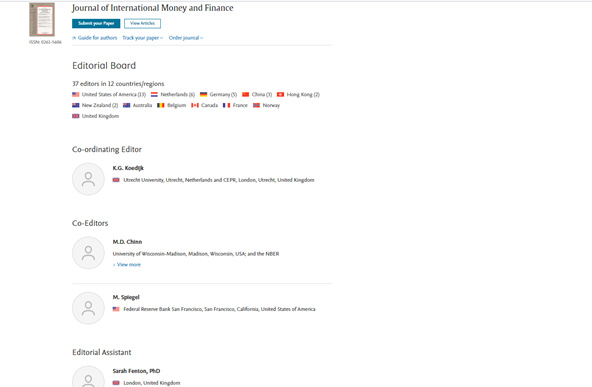 Note: J. Aizenman was coeditor until Dec. 31, 2020.
No summary of other dimensions of diversity; JIE has a more detailed breakdown. I'll note that the gender disparity is definitely apparent, with only 3 females on the editorial board. (On the other hand, I will note that I'm the first Asian or Asian-American editor/coeditor in JIMF's 40 years.)
Unsurprisingly, the JIMF partly conforms to the norm that the center of gravity of editorships is concentrated in the US (two of three have been in the US for something like a decade). For the editorial board — the importance of which varies greatly across journals — there is somewhat broader representation, although as a journal dealing with international economics, you might expect more diversity. The editorial board includes representation of academics in China, in Hong Kong (which is counted separately in this tabulation), as well as New Zealand and Australia. No members in Africa or the Asian Subcontinent. There is one think-tanker (deutsches institut für wirtschaftsforschung), five central bankers (although admittedly there are more if you include lapsed central bankers), and most of the rest academics.
Does the distribution of editorships and editorial board members matter? I don't know. If you consider the special issues that JIMF has published over the past 7 years, I'd say there is plenty of geographical distribution — international finance/open economy macro people go to where the problems are!
Special Issue "Monetary Policy under Global Uncertainty"

2019 Asia Economic Policy Conference (AEPC): Monetary Policy under Global Uncertainty

International Aspects of Economic and Policy Fragility

Micro data and the exchange rate pass-through to prices and trade

Global Safe Assets, International Reserves, and Capital Flow

2017 Asia Economic Policy Conference: Monetary Policy Challenges in a Changing Global Environment

Exchange rate models for a new era: Major and emerging market currencies

International Financial Integration in a Changing Policy Context – the End of an Era?

International spillovers of monetary policy through global banks

Monetary Policy, Macroprudential Regulation and Inequality

International dimensions of conventional and unconventional monetary policy

Emerging Markets Finance: Issues of international capital flows

Capital Flows and the International Financial System

Global Economy: Future Financial and Macro Challenges

SI – Tribute Jim Lothian

The New Normal in the Post-Crisis Era

Emerging markets finance: Issues of international capital flows

Emerging markets finance: Issues of international capital flows – Overview of the special issue

Emerging markets finance: Issues of international capital flows

Macroeconomic and financial challenges facing Latin America and the Caribbean after the crisis

Adjustment in the Aftermath of the Global Crisis 2008-09: New Global Order?

The impact of the Global Financial Crisis on Banks, Financial Markets and Institutions in Europe

The Pacific Rim Economies and the Evolution of the International Monetary Architecture

Current account imbalances and international financial integration
Now, whether the methodological approaches and literature cited in the papers in these special issues (and in the journal generally) depends critically on the geographical location of editors or editorial board members remains an open question. Personally, I suspect it depends more on the intellectual lineage of the editors — more on that in another post.