Wells Fargo Economics analyses the extent of the current slowdown, and contemplates the impact on regional economies. Here's the heat map: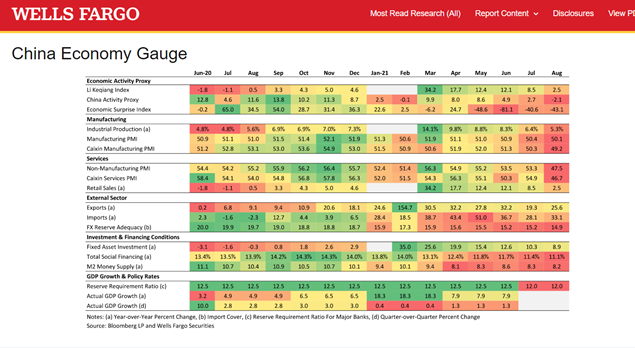 Source: McKenna/Guo, "China Economic Gauge and Sensitivity", Wells Fargo Economics, 20 Sep 2021, Figure 1.
From the report:
Our dashboard (Figure 1) suggests the short-term outlook for China's economy is indeed deteriorating, consistent with the multiple downward revisions we have made to our GDP forecast over the past few months. Given the signals our gauge is showing, we believe easier monetary policy could be the next major policy move from the PBoC, and another RRR reduction could be imminent as authorities look to offset some of the deceleration.
This report is in line with the Goldman Sachs report (discussed here).
Wells Fargo highlights Singapore, South Korea and Chile as most sensitive to growth developments in China (on the basis of exports). Looking more broadly at "beta's" of equity returns and currency values as well as export dependence, the list of at risk countries expands to include South Africa, Brazil and Russia as well.