If accommodation and food service wages evolve in October in the same way the have covaried with overall leisure and hospitality service wages, then the answer is yes, for a variety of price indexes.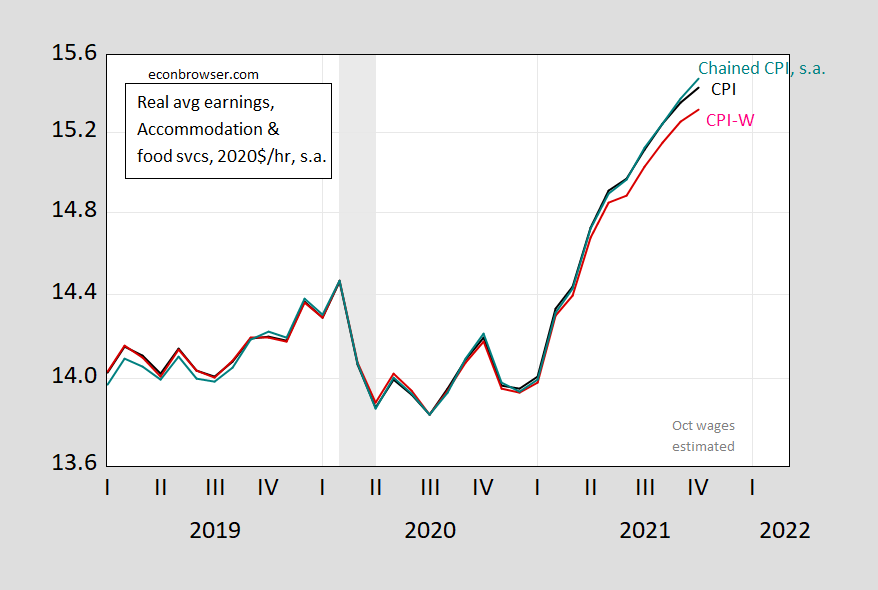 Figure 1: Average hourly earnings of production and nonsupervisory workers in accommodation and food services, in $/hour, deflated by CPI (black), chained CPI, seasonally adjusted (teal), and CPI-wage earners and clerical (red), into 2020$. NBER defined recession dates peak-to-grough shaded gray. Chained CPI seasonally adjusted by X-12/X-11 ARIMA. October observation on wages extrapolated from leisure and hospitality services average wage over 2021, using log first differences specification. Source: BLS, NBER, and author's calculations.
So, even though actual CPI exceeded nowcasted CPI (as described in this post), real wages still rose for these workers.
(Aside: Is there a standard error for the estimate of average wages? The technical notes regarding average hourly earnings series indicates: "Average hourly earnings estimates are derived by dividing the estimated industry payroll by the corresponding paid hours." In other words, the average hourly wage is not calculated by surveying a number of employees to obtain their earnings per hour, and then averaging over all the observed earnings per hour. Hence, there is not a standard error in the sense one might expect. )